2021-April-20 08:53
Politics
2021-March-4  17:41
Iranian Interior Minister Stresses Amicable Ties with Iraq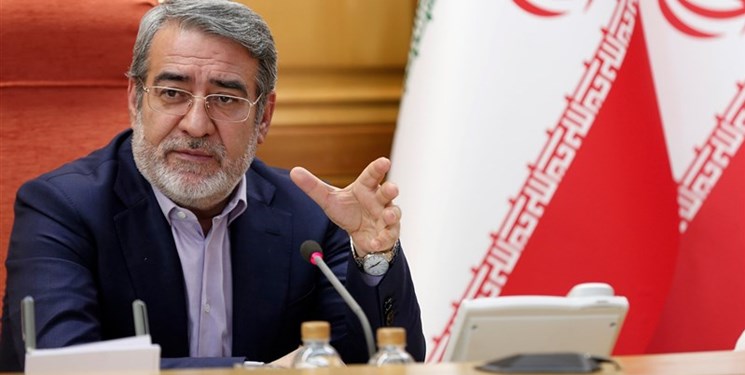 TEHRAN (FNA)- Iranian Interior Minister Abdolreza Rahmani Fazli underlined close relations and cooperation with Iraq, saying that Tehran is ready to provide Baghdad with advisory and logistic assistance in area of security.
Amicable relations between Iran and Iraq is beyond signing agreements and Memoranda of Understanding (MoUs), Rahmani Fazli said in a meeting with visiting Iraqi Interior Ministry delegation in Tehran on Wednesday.
He reiterated that relations between the two countries of Iran and Iraq do not confine within the framework of agreements and MoUs, rather, relations between the two states are based on beliefs, cultural, religious commonalities.
"We love the Iraqi people like our own people," he added.
Iran's Ministry of Interior has made its utmost effort to expand and develop relations between the two countries, so that the interior ministries of the two countries can play a very important role in strengthening and broadening relations between the two countries.  
Elsewhere in his remarks, Rahmani Fazli pointed to the issue of fighting against terrorism, and said, "In this field, the two countries have taken giant strides in the fight against terrorism. At the request of Iraqi government, Islamic Republic of Iran is ready to provide Iraqi government and people with advisory and logistics services whenever it is needed."
One of the most significant cooperation between the two ministries is the issue of Arbaeen rites and rituals, he said, adding, "Arbaeen is a matter of faith and culture for people of Iran and Iraq which can further expand relations between the two countries."
Senior Advisor to the Iraqi Interior Ministry Abdul Halim Faham Al-Farhoud, for his part, expressed special thanks to the Iranian Ministry of Interior for its hospitality and stated that negotiating for reaching Memorandum of Understanding (MoU) and enhancing security cooperation between the two countries is the main aim behind visit of Iraqi delegation to the Islamic Republic of Iran.
Security of Iraq is the security of Iran and there are common relations and interests between the two countries, he underlined.
In relevant remarks on Wednesday, Iranian Deputy Interior Minister Hossein Zolfaqari stressed that Tehran and Baghdad have good cooperation in fighting terrorism even after defeating terrorist groups in the region.
Zolfaqari made the remarks in a joint press conference with High Counselor of Iraqi Interior Ministry Abdulhalim Fahim al-Farhoud.
He said that Iran hosted an Iraqi delegation this week with high level meetings on promoting cooperation and information exchange on issues concerning security, border cooperation, fighting terrorism, organized crimes, fighting drug trafficking and facilitating civil travels between countries.
Zolfaqari also said that an agreement was drafted to be signed in a future meeting between interior ministers of Iran and Iraq.
He highlighted very good cooperation between officials from the two countries on different areas, including Arbaeen ritual which is widely commemorated by millions of Iranians traveling to Iraq during the occasion.
Although terrorism has been defeated, Iran and Iraq have still close cooperation to fight terrorism in various fields, including intelligence, education, border control, and experience exchange, Zolfaqari said.
Fahim al-Farhoud, for his part, said that he and his companions had several meetings with Iranian counterparts and good conversation on security and issues related to citizens went on in the meetings.
He also said that the Iraqi delegation visited some defense companies in Iran to get familiar with Iranian defense products and Iraq would use the products to meet its needs.