2021-April-14 22:10
Politics
2021-March-6  10:26
Tehran: 3 Persian Gulf Islands Inseparable Part of Iran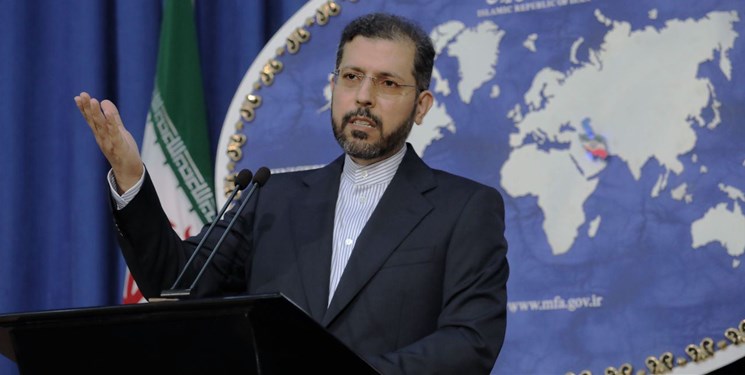 TEHRAN (FNA)- Iranian Foreign Ministry Spokesman Saeed Khatibzadeh strongly rejected the recent Arab League declaration on Iran, emphasizing that the three Islands in the Persian Gulf are inseparable part of the country.
The repetition of fruitless claims on the three Iranian islands will not change the historical and geographical facts, Khatibzadeh said on Friday, adding that the three Islands of Abu Musa, Greater Tunb and Lesser Tunb will never be separated from the motherland.
"It is unfortunate that certain Arab countries are distracting public opinion from their wicked and destructive moves by creating notional animosity instead of dealing with the main problems of the Arab World, including letting the occupying … Zionist regime into the region, neglecting the Palestinian cause, continuation of the Yemen war… and supporting terrorism … for years," he said.
"The states whose six-year-long destructive invasion of Yemen has damaged the country's basic infrastructures and brought on starvation, disease, displacement, and poverty for millions and have innocent people's blood on their hands are trying to shrug off all the responsibility for their crimes with baseless allegations," the spokesman noted.
In relevant remarks in October 2020, Iranian Envoy to the United Nations Majid Takht Ravanchi vehemently castigated the unfounded allegations on the three Persian Gulf Islands of Abu Musa, Greater Tunb and Lesser Tunb, and emphasized his country's inalienable and perpetual ownership of these islands.
Takht Ravanchi said, addressing a virtual meeting of the UN Security Council on Tuesday October 20, 2020, that Abu Musa, Greater and Lesser Tunbs are Iranian and will remain Iranian Islands forever.
He added that Iran has played an unrivaled role maintaining of security of energy transportation in the Persian Gulf region and will continue to promote peace and stability in this region.
The Iranian diplomat also went on to say that, during the 8-year imposed war, his country had been fallen victim to the weapons of mass destruction that had been given to Saddam Hussein mainly by the West.
Takht Ravanchi reiterated that some of the Persian Gulf Cooperation Council members were complicit with Saddam in his crimes and bombardment of Iranian cities.
He warned that purchasing and stockpiling of lethal weapons have just turned the region into a powder keg rather than bringing security and to the region, and censured the criminal use of these weapons by some of the PGCC members against the innocent people like in Yemen.  
"There is a long list of internationally wrongful acts attributable to those who make unsubstantiated accusations against Iran," Takht Ravanchi said in part of his statement.
"Since the issue related to Iranian islands has been mentioned here, I have to say that Abu Musa, Greater and Lesser Tunb islands have always been part of Iran. These islands are Iranian and will remain so forever," he reiterated.
Secretary General of the Persian Gulf Cooperation Council Nayef Falah Al-Hajraf on October 20, 2020 had raised threadbare allegations against Iran, claiming that the three Islands of Abu Musa, Greater Tunb and Lesser Tunb have been "occupied" by Iran and Iran has to stand accountable at an "international criminal court" for the move.