Politics
2021-March-15  13:30
Iran: Israel Main Suspect Behind Attack on Cargo Ship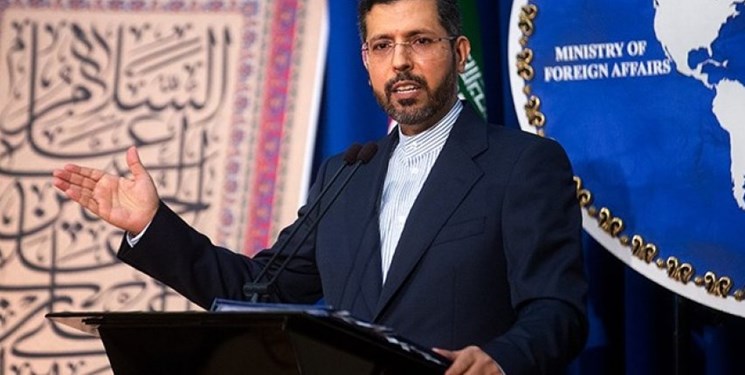 TEHRAN (FNA)- Iran said Israel is the main suspect behind the recent attack on its cargo vessel in the Mediterranean, adding that Tehran reserves the right for countermeasures.
Iranian Foreign Ministry Spokesman Saeed Khatibzadeh said the Zionist regime is the main suspect in the recent attack in the Mediterranean against Iranian cargo ship, and noted that Tehran reserves the right for any retaliatory move.
"Given the geographical location of the attack it is possible that this terrorist act was carried out by the Zionist regime," he said.
"Whenever the region moves toward peace, this regime [Israel] tries to cause unrest for a clear reason, that it sees all its survival in crisis and insecurity, and thinks chaos can help prolong its existence," the spokesman went on to say.
He stressed that Iran reserves the right to use every option to respond to the attack once the perpetrators are identified.
In relevant remarks Khatibzadeh said on Wednesday, "Reports confirm the sabotage attack on the ship, which is in clear violation of international law and the laws of the seas."
He condemned the attack, and said, "Adopting the necessary measures to identify the perpetrators of this sabotage act is on the agenda of different bodies, and the necessary follow-ups in this regard about its various dimensions are seriously on the agenda."
Iran's cargo ship Shahr-e Kord was attacked in the international waters of the Mediterranean on Wednesday, Spokesman for the Iranian Shipping Company Ali Ghiasian said, adding that part of the vessel was damaged in the terrorist attack.
Ghiasian said on Friday that the Shahr-e Kord cargo ship, belonging to the Islamic Republic of Iran Container Transportation Company, came under a terrorist attack, adding that the ship was on route from Iran to Europe.
"After the explosive object hit the ship, a small fire broke out which was immediately put out by timely efforts of the ship's commander and crew, and no crew was injured," he said.
"The Iranian ship Shahr-e Kord will continue its route after an assessment of the extent of the damage and repairing is done," Ghiasian further said.
He described such a terrorist act a clear example of piracy and stressed that it was against international law ruling over commercial shipping security and that legal action would be taken to identify the perpetrators through relevant international bodies.