2021-May-18 06:40
Politics
2021-March-18  17:01
Minister: Serbia Interested in Sustainable Cooperation with Iran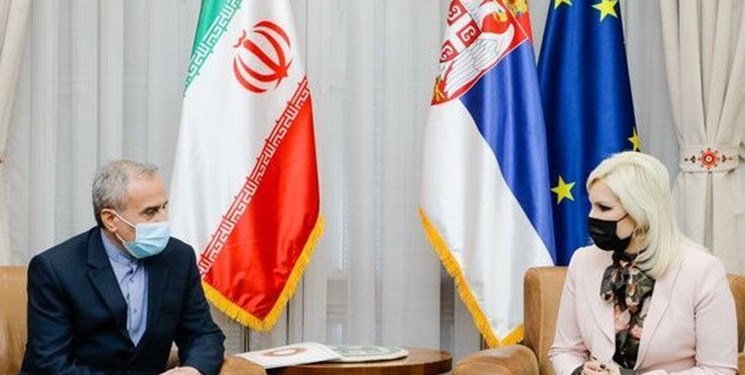 TEHRAN (FNA)- Serbia's Minister of Mining and Energy Zorana Mihajlović in a meeting with Iranian Ambassador to Belgrade Rashid Hassanpour on Thursday declared her country's willingness to develop sustainable and effective cooperation with Iran in energy and mine fields.
During the meeting in Belgrade, the Iranian and Serbian officials held talks on ways to develop cooperation in the fields of energy and mineral sector.
The two officials highlighted good and traditional relations between Tehran and Belgrade and called for enhanced cooperation.
The Serbian minister underlined that formation of an energy committee in the framework of joint economic commission is an important step forward to development of cooperation.
Referring to Iran's great capacities in energy and mineral sector, she said that Serbia is willing to develop effective and sustainable cooperation with Iran in those fields.
The Serbian minister expressed hope that sanctions would be lifted to prepare the grounds for cooperation.
For his part, the Iranian ambassador said Tehran attaches great importance to its ties with Belgrade.
Pointing to mutual agreement on formation of energy committee, the ambassador hoped that this mechanism would help develop economic cooperation.
"The two countries have tried to support development of cooperation in the sanctions (era)," he said.
Also, in November, Hassanpour and Serbian Minister of Trade, Tourism and Telecommunications Tatjana Matic in a meeting stressed the need for the expansion of mutual cooperation in all areas.
During the meeting in the Serbian capital, Hassanpour and Matic agreed that in addition to discussing the free trade agreement and holding a joint commission meeting between the two countries, it is important to agree on a joint payment system, which will be key to continuing cooperation between the two countries.
During the meeting, Hassanpour voiced his country's strong political will for cooperation with Serbia, and said, "In addition to the abolition of visas, the establishment of direct flights between the two capitals is also important."
"We have always attached special importance to Serbia in the Balkan region," he added.
Hassanpour said that the two countries' capacities should be used to expand mutual cooperation.
The Serbian minister, for her part, said that Serbia is seeking to develop trade and tourism cooperation with Iran.
"We hope that mutual cooperation would increase once the problem of coronavirus is removed," she added.