2021-April-17 09:56
Politics
2021-April-4  15:15
Speaker: Removing Sanctions Just on Paper Not Enough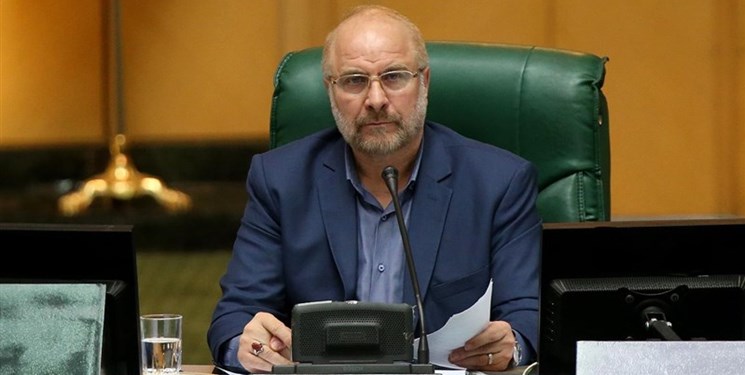 TEHRAN (FNA)- Iranian Parliament Speaker Mohammad Baqer Qalibaf underlined that his country is making its utmost efforts to defuse the US sanctions, stressing that doing paper work to pretend that the sanctions will be removed or a partial removal of sanctions may not convince Tehran to change course.
"The Americans should know that Iran's main strategy for lifting sanctions is to defuse them, and by activating the nuclear industry, it is up to them to decide and lift sanctions against Iran completely and practically. Also, making promises over the paper or incomplete removal of sanctions do not meet the demands of Iranian people," Qalibaf said, addressing an open session of the parliament in Tehran on Sunday.
"The Iranian people and officials stand united to see if the other side will take practical measures to lift sanctions in way that it would produce positive effect on the Iranian economy, and we have repeatedly stated that Iran will fulfill its undertakings based on the nuclear deal after verifying and resting assured that lifting of sanctions is not just something on paper," he added.
Elsewhere, Qalibaf welcomed his country's strategic cooperation document signed with China, saying that it is an important warning to the US to understand that the international ties are rapidly changing to its detriment and it is not in a situation to unilaterally impose an agreement or plan on independent states.
Iran's foreign ministry had on Saturday dismissed any step-by-step lifting of the illegal US sanctions entailing reciprocal actions by Tehran and Washington, stressing that Iran won't concede to any plan for the revival of nuclear deal except for a full removal of all sanctions beforehand.
"As has been clearly stated many times, no step-by-step plan is being considered," Foreign Ministry Spokesman Saeed Khatibzadeh said.  
"The definitive policy of the Islamic Republic of Iran is the lifting of all US sanctions, whether those which Trump re-imposed after leaving the JCPOA [Joint Comprehensive Plan of Action] or those which he initiated, as well as sanctions imposed under any other title," he added.
His remarks came in response to claims made by US State Department Deputy Spokeswoman Jalina Porter, who has said on Friday that Washington would lift sanctions step-by-step in line with Iran's return to its commitments.
Also, on Friday, Iran's Foreign Minister Mohammad Javad Zarif said the Joint Comprehensive Plan of Action Commission meeting in Vienna is due to finalize the moves needed to revive the nuclear deal, but further rejected any kind of talks with the US.
"At virtual JCPOA JC meeting, Iran & EU/E3+2 agreed to resume in-person talks in Vienna next Tues," Zarif wrote on his Twitter page, pointing to the JCPOA Joint Commission that was held virtually earlier on the day, adding that the Tuesday session will be focused on 'rapidly' finalizing the lifting of sanctions by the US.
He noted that once the sanctions are removed, Iran will stop its remedial measures.
Zarif also reacted to some reports on the US' presence in the upcoming meeting, saying there won't be any Iran-US meeting as it would be "Unnecessary".