2021-April-20 10:42
Politics
2021-April-8  16:24
Iranian FM, Kazakh President Discuss Afghanistan, Syria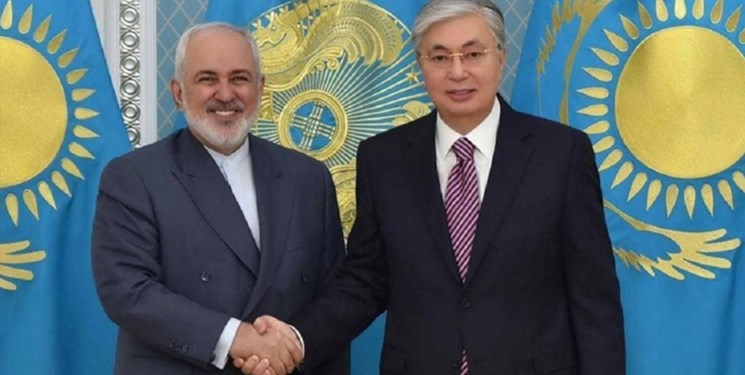 TEHRAN (FNA)- Iranian Foreign Minister Mohammad Javad Zarif and Kazakh President Kassym-Jomart Tokayev in a meeting in Nur-Sultan conferred on the latest regional developments, including Afghanistan and Syria.
During the meeting on Wednesday, the two high-ranking officials examined the developments in the Joint Comprehensive Plan of Action (JCPOA), the peace process in Afghanistan, the Astana peace process in Syria, and the Conference on Interaction and Confidence-Building Measures in Asia (CICA) process.
They also discussed issues of mutual interest.
In the meeting, Zarif described Kazakhstan as a friendly and neighboring country and assessed the closeness of the two countries' stances on regional and international issues as important.
He called it necessary to try to find sustainable cooperation pathways to maintain and develop relations between the two states.
Tokayev, for his part, stressed common history of the two countries and importance of developing cooperation with Iran, calling the Islamic Republic of Iran a key partner in the region.
He also emphasized the comprehensive expansion of relations in the economic and political sectors.
Zarif had also in a meeting with his Kazakh counterpart Mukhtar Tleuberdi in Nur Sultan on Wednesday underlined that the two countries share commonalities in different fields.
During the meeting in Kazakhstan's capital, Zarif said that historical, cultural, political and economic cooperation is of great importance in Iran-Kazakhstan relations.
During the meeting, Zarif and Tleuberdi explored the avenues for bolstering and reinvigorating mutual cooperation in different fields.
The Iranian foreign minister thanked Kazakhstan's support for Iran in international arena and the positive role the country has played in different issues, including Iran's nuclear issue and the Syria process.
He also hailed Kazakhstan's former President Nursultan Zarabayev because of his leading role in different global issues, including nuclear-weapons-free world.