2021-May-11 22:19
Politics
2021-April-8  16:28
Austria Underlines Readiness to Save Iran N. Deal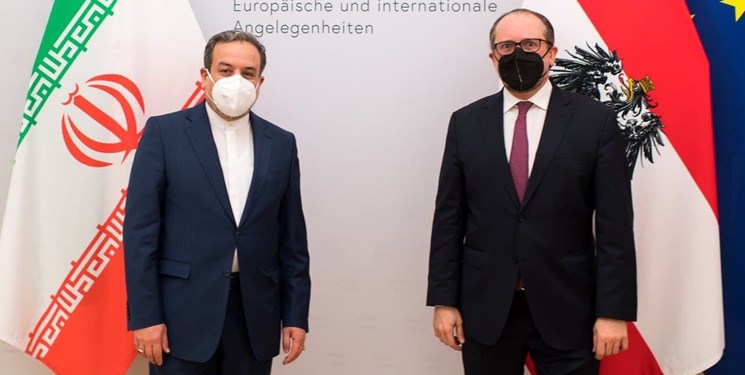 TEHRAN (FNA)- Austrian Foreign Minister Alexander Schallenberg in a meeting with Iranian Deputy Foreign Minister Seyed Abbas Araqchi stressed his country's readiness for more efforts to keep the nuclear deal alive.
During the meeting in Vienna on Wednesday evening on the sidelines of the 18th Joint JCPOA Commission session, the two sides, reviewed bilateral ties, and emphasized on the need for further deepening and expanding them.
They also exchanged ideas on issues of mutual interest, particularly the current jeopardized status of the JCPOA.
Araqchi, for his part, appreciated efforts made and hospitality of the Austrian government, and elaborated on Tehran's stands regarding the nuclear deal, specially the need for full termination of the anti-Iranian sanctions and the other moves that the US administration needs to make before returning to the JCPOA.
In the meeting, Schallenberg emphasized on the Austrian government's readiness for providing the required facilities and making any extra efforts to provide the appropriate atmosphere for the sensitive negotiations in Vienna to rescue the JCPOA, which he said its continuation will be "to the benefit of all of us".
The first round of JCPOA talks ended on Tuesday after an hour of five-sided negotiations and the participants were all agreed on the need for pursuing the technical talks till their second session of Friday.
Iran announced on Wednesday that it will not reverse its retaliatory measures adopted in response to the West's defiance of the nuclear deal unless all US sanctions are lifted in practice and effectively.
"Media spinning can't change the fact that unlike the US, Iran remains a Joint Comprehensive Plan of Action (JCPOA) participant," Foreign Ministry Spokesman Saeed Khatibzadeh wrote on his twitter page.
He added that the only US "path back" to the nuclear deal is "full compliance and effective removal of all imposed, re-imposed and re-labeled sanctions".
"Only after that, we'll stop our remedial measures," Khatibzadeh said.