2021-May-11 20:27
Politics
2021-April-8  19:23
President: Turkmenistan Interested in Enhancing Relations with Iran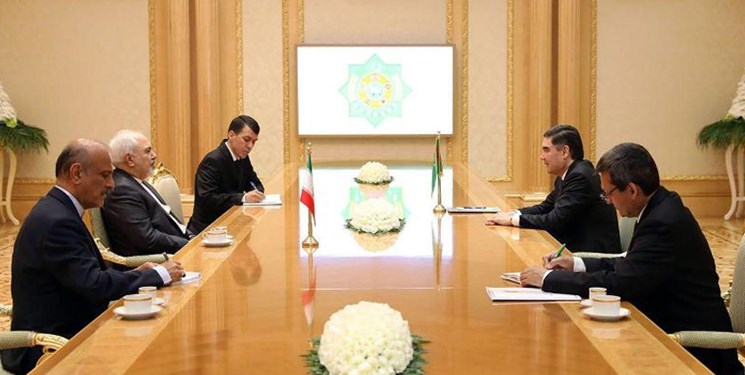 TEHRAN (FNA)- Turkmen President Gurbanguly Berdimuhamedow in a meeting with Iranian Foreign Minister Mohammad Javad Zarif in Ashgabat on Thursday said that his country is eager to further broaden ties and cooperation with Tehran.
During the meeting, Berdimuhamedow expressed his support for expanding bilateral relations in various political, economic, and cultural spheres, and reiterated his country's determination to cooperate with Iran.
Zarif, for his part, elaborated on dimensions of Iran-Turkmenistan relations in various political, economic, and cultural fields, stressing the importance of relations between the two neighboring countries.
Zarif also met with the Turkmen foreign minister.
The Iranian top diplomat is on the last leg of his regional tour of four Central Asian countries.
On Wednesday, Zarif reiterated that development of relations and cooperation with the neighboring states is a priority in the country's foreign policy.
"As always, our neighbors are our priority," Zarif, who was in Kazakhstan, wrote on his twitter page.
"In Kazakhstan on third leg of my regional tour, where I've had substantive and fruitful meetings with President Tokayev and FM Tileuberdi," he added.
"Our two countries share many objectives on regional stability and global nuclear disarmament," Zarif wrote, after meeting with the President of Kazakhstan and the country's foreign minister in the third leg of a tour to four Central Asian countries.
Zarif has visited Uzbekistan and Kyrgyzstan, Kazakhstan  and Turkmenistan to meet with the two countries' presidents and foreign ministers during the tour.