2021-May-16 12:40
Politics
2021-April-10  12:47
AEOI Chief: Iran to Continue N. Progress along with Respect for Int'l Laws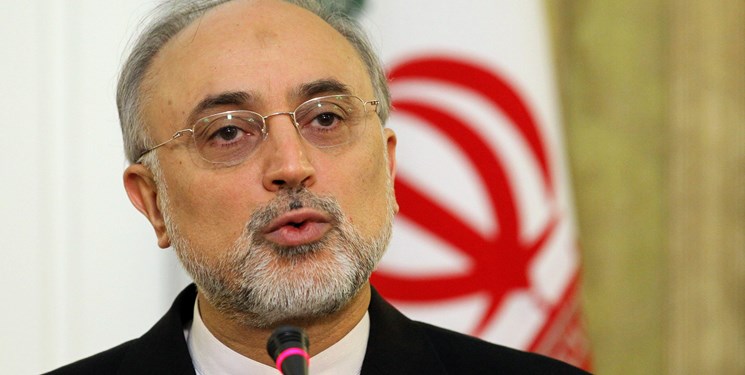 TEHRAN (FNA)- Head of the Atomic Energy Organization of Iran (AEOI) Ali Akbar Salehi stressed the country's plans to continue progress in developing its peaceful nuclear program, adding that Tehran remains committed to international laws.
"Despite all restrictions and sanctions, different plans in the field of nuclear sciences and technologies have been pursued powerfully," Salehi said on Saturday, on the occasion of the National Nuclear Technology Day in Iran.
"We seek to increase our nuclear achievements while respecting international laws and interaction with the world," he added.
Salehi referred to the development of 133 new nuclear achievements used in different industrial, health and agricultural sectors, and said a number of these achievements include production of centrifuges required for the blood transfusion centers, industrial production of medical-grade titanium used for manufacturing implants in human body and production of several new radiopharmaceuticals.
In relevant remarks on Wednesday, Salehi said that his country has stockpiled 35 tons of yellow cake, adding that the nation's uranium enrichment capacity has expanded to 16,500 SWUs (Seperate Working Units).
Iran's yellow cake production was 4-5 tons annually which has now increased to 35 tons, the AEOI chief said.
He referred to the National Day of Nuclear Technology in Iran on April 9, and said that an exhibition of achievements in this field would be held on Saturday.
He highlighted AEOI's efforts in meeting medical needs of one million people with refractory disease and added that the organization adds to its medical products annually and collaborates with universities in this regard.
Salehi also mentioned an Iontophoresis center in Alborz province with 200 million euros of equipment which is going to be completed in three years.
He referred to another project named Tetra with 60 million euros of equipment which is dedicated to Radiopharmaceuticals, the first phase of which is going to be launched later in summer.
Iran has introduced several new centrifuges, including IR4, IR6 and IR2M, according to the official who added that Iran had an enrichment capacity of 13,000 SWU, but the number stands at 16,500 SWU today.
He underlined that Iran has a stockpile of 5 tons of enriched uranium and 57 kg of 20-percent uranium which would reach 120 kg in a year.
Salehi expressed a positive assessment of the meeting of Joint Commission of the JCPOA on Tuesday and said that Iran's stance is clear and unchanging.
According to the official, Iran has made it clear that the US was the party who violated the nuclear deal by its ceasing participation and resuming sanctions; and now, its Washington's responsibility to rejoin the deal by removing sanctions and then Iran would return to full compliance.
He also stressed that there would be no step-by-step measure for the US rejoining the JCPOA.
AEOI Spokesman Behrouz Kamalvandi said on Tuesday that the country has started mechanical tests on its indigenized advanced IR-9 centrifuge machines.
"One of the progresses made in the field of enrichment is starting the mechanical tests on IR-9 centrifuge machines which is able to produce 50,000 SWUs," Kamalvandi said.
He added that the IR-9 is one of the most important advanced centrifuge machines in Iran which has been manufactured based on new standard methods.
Kamalvandi also said that the AEOI plans to unveil 133 nuclear achievements on April 9 (the National Nuclear Technology Day), including 40 breakthroughs in area uranium enrichment.
Iran's Ambassador and Permanent Representative to Vienna-based International Organizations Kazzem Qaribabadi announced in February that the country's nuclear experts had installed new centrifuges at Natanz and Fordow sites in Central Iran.
"Thanks to our diligent nuclear scientists, two cascades of 348 IR2m centrifuges with almost 4 times the capacity of IR1 are now running with UF6 successfully in Natanz. Installation of 2 cascades of IR6 centrifuges has also started in Fordow," Qaribabadi wrote on his twitter page.
He added that more new centrifuges are due to be installed at the two nuclear facilities "soon".
"The IAEA is yet able to verify and is informed of the progress as planned," Qaribabadi said.
Also, Kamalvandi announced late in January that the country plans to install 1,000 new IR2M centrifuge machines at Natanz nuclear site in 3 months.
1,000 IR2M centrifuges will be installed at Natanz nuclear facility within three months, Kamalvandi told reporters on the sidelines of Parliament Speaker Qalibaf's visit to Fordow plant.
He said that the AEOI is making great achievements in line with the guidelines of the Supreme Leader of the Islamic Republic, stressing that Iran is enriching uranium using 100% indigenous technology.
"It's not only the enrichment. We have achieved a lot in the field of radiopharmaceuticals, yellowcake production, and oxygen," the spokesman said.