2021-May-16 14:32
Politics
2021-April-10  15:54
President Rouhani Blasts IAEA for Lack of Assistance to Iran's N. Development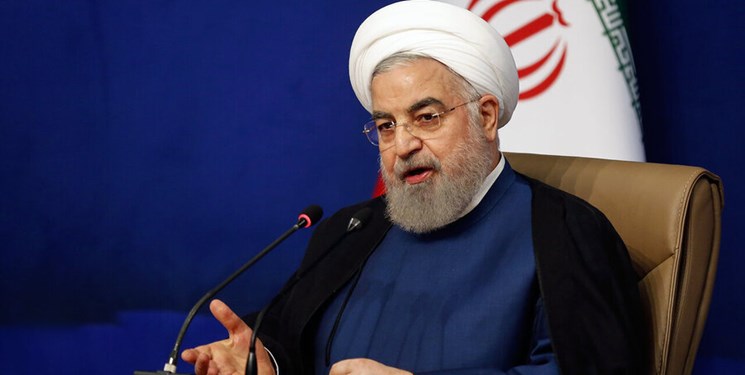 TEHRAN (FNA)- Iranian President Hassan Rouhani lashed out at the International Atomic Energy Agency (IAEA) for reserving assistance to Tehran in developing its peaceful nuclear program, and further said his nation has developed capabilities to stand on its own feet in this field.
"What assistance has the Agency extended to us? Monitoring is (only) one of the IAEA duties. You (the Agency) should help us in peaceful acts. You owe us, and we do not owe you. The big industrialized countries owe us and have to pay their debt to us. Today, we are standing on our own feet in managing the Bushehr (nuclear) reactor. God willing, we will continue to stand on our own feet in the construction of power plants," President Rouhani said, addressing a ceremony to unveil 133 new nuclear achievements on the occasion of the National Nuclear Technology Day.
"All our nuclear activities are peaceful and for civilian purposes, and as the Supreme Leader of the Islamic Revolution (Ayatollah Khamenei) has repeatedly emphasized, from the point of view of our Islamic ethics and jurisprudence, basically pursuing a destructive weapon that can be a great danger to a big society is forbidden and (if they see this, they will) understand that Iran is never after it (nuclear weapons)," he added.
Rouhani also referred to the development of different radiopharmaceuticals in the country used for medical diagnosis.
"One of the things the government takes pride in is the development of nuclear technology. We are still committed to our undertaking which is the Non-Proliferation Treaty (NPT)," he said.
Iran had also last month criticized the IAEA by calling on the UN nuclear watchdog to maintain its impartiality and technical prestige.
Foreign Ministry Spokesman Saeed Khatibzadeh made the remarks in a press conference in Tehran in response to Grossi's comments who had called for more access to Iran's nuclear sites.
"Monitoring Iran's nuclear programs is a technical issue. Iran has always given all accesses within the framework of safeguards agreements and certain accesses within the framework of the Additional Protocol (to the NPT) which was (recently) suspended under the parliament approval and a 3-month opportunity was granted. We have to wait and see if they will use this diplomatic window or not," he said.
"My advice to the IAEA is to comment as a technical body within the technical frameworks and maintain its impartiality, and good relations between Iran and the IAEA can continue well within this framework," Khatibzadeh said.