2021-May-15 10:05
Economy
2021-April-11  15:34
Iranian Technological Firms Manufacture over 200 Aviation Industry Products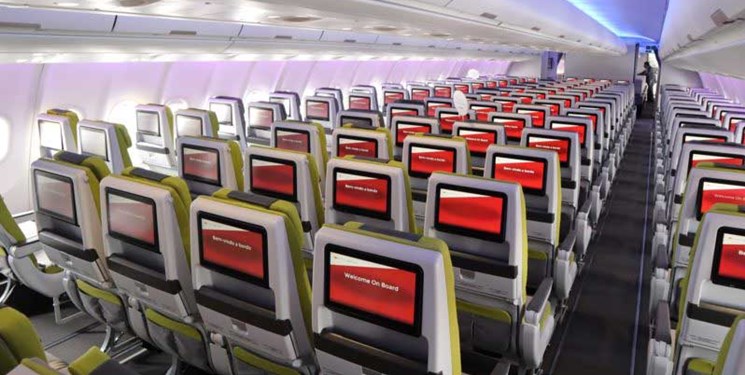 TEHRAN (FNA)- Head of the Technology Exchange Network of Iran Nanotechnology Innovation Center Reza Soltan Alizadeh said that the country's technological companies have so far manufactured more than 200 products used in aviation industry, adding that their products have been commercialized and delivered to several airlines.
"Over 200 Iranian products have been produced, commercialized and delivered to different airlines," Soltan Alizadeh told FNA on Sunday.
"Airplane seat covers and carpets inside the cabin are among these products; aircraft seat covers are important because they have the highest role in inflaming fire, so companies have offered products that are slow-burning," he added.
Soltan Alizadeh stated that Iran-made aircraft seat covers have the three features of slow-burning, antibacterial and hydrophobic, and addded, "Iranian companies have also achieved the technological know-how to produce glass, cabin filters, and nanotechnology-based coatings for airplanes."
Earlier reports also said that the Iranian airlines use special paints produced by the country's nanotechnology firms as a coating for the outer surface of the aircraft used to carry people and cargo.
"Using Iran-made nano paints on the Iranian airplanes has increased in the past few years and our share of this market has jumped from 10% to 25%," Nobakht Qaradaqi, the CEO of Goharfam production and industrial company, said in August.
He added that many Iranian airlines, including Mahan and Zagros, use the home-made nano paint to cover their airplanes' outer surface.
Qaradaqi said that the products of the company are all manufactured under international standards.
Iranian scientists could stand atop the Middle-Eastern states in the development and advancement of nanoscience and nanotechnology.
They have also been able to produce special glasses with nano coating with application in airplanes.
"At present, we produce defroster and cooler glass for most of the existing planes in the country; these glasses are covered by a nanocoating with the thickness of 100 to 500 nanometers," Mohammad Hossein Sheikh Sarraf, a senior expert in designing plane glasses at an Iranian company, said.
He added that the company has in the past few years produced 30 glasses for C130 planes, 50 for Boeing 707, 100 for Fokker 50 and Fokker 27 and 40 for Fokker 100 planes.
"At present, we are working on production of glasses for Airbus planes," Sheikh Sarraf said.