2021-May-18 18:51
Politics
2021-April-12  13:43
Spokesman: Iran Wants Removal of All US Nuclear, Non-Nuclear Sanctions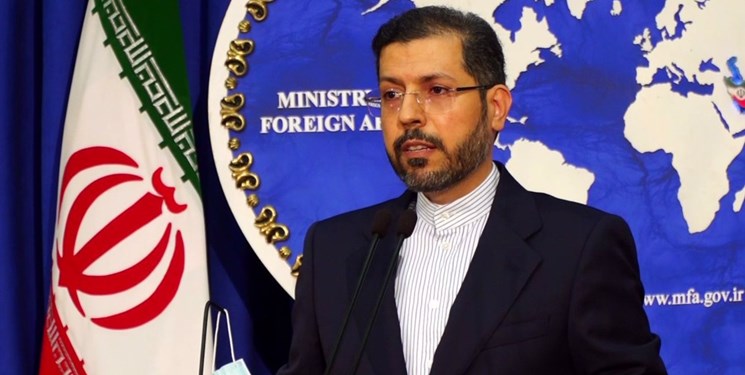 TEHRAN (FNA)- Iranian Foreign Minister Spokesman Saeed Khatibzadeh said that the country never allows the US to keep part of its sanctions on any pretext, stressing that all embargoes should be lifted in one single step.
"What is happening in Vienna is not nuclear negotiations. They are technical talks between Iran and the Group 4+1 (China, Russia, Britain and France plus Germany) and the European Union to lift the US sanctions ," Khatibzadeh told reporters on Monday.
"There is no difference between the sanctions. The US officials have repeatedly said they imposed sanctions to exert maximum pressure and not allow anyone to revive the nuclear deal," he added.
"We have made it clear that the situation should return to January 2017. The fictitious labels that the Trump administration has put on some sanctions and re-imposed a number of others are not valid. We have nothing to do with the US domestic politics. The US has responsibilities and undertakings based on the Resolution 2231," Khatibzaeh said.
"The nuclear deal had made it clear what the US should do. All of these sanctions are part of the US maximum pressure. We submit the list (of sanctions which should be lifted) to the Joint Commission (of the JCPOA) and have nothing to do with the US. What Iran is pursuing is to lift all sanctions in one step and in a way that we can verify," he added.
Khatibzadeh expressed regret that certain US officials come to Vienna to talk to the G4+1 to preserve some of Trump's failed legacy, noting that the path that they have taken to reform their actions should be complete.
In relevant remarks on Friday, Iran's Permanent Representative to Vienna-based International Organizations Kazzem Qaribabadi said the US should remove all anti-Iran sanctions in practice rather than on paper, stressing that only then Iran will comply with its nuclear undertakings.
"The sanctions must be removed practically, not on paper," Qaribabadi said, adding that the issue has been stressed several times by the Iranian officials, specially Supreme Leader of the Islamic Revolution, Ayatollah Seyed Ali Khamenei.  
"That is why the Leader of the Revolution also raised the issue of verifying the removal of sanctions and it became the policy of the Islamic Republic of Iran, which is reflected, stressed and followed up in various talks," he noted.
Qaribabadi said that a verifiable removal should enable Iran to conduct banking transactions through international banks and monetary channels.
"Only then, one can be assured that the removal of sanctions has practical effects," he noted,
He explained Iran's stance on removal of sanctions, saying, "First, all the sanctions that were lifted under the JCPOA but were re-imposed by the US administration (under Trump) must be removed. Second, the Trump administration imposed new sanctions in addition to the sanctions that were removed under the JCPOA. These sanctions must be removed as well. Third, there are sanctions that were imposed under non-nuclear pretexts. These sanctions must also be removed completely."