2021-May-19 06:15
Politics
2021-April-14  16:16
Iranian President Blasts US Destructive Role in Region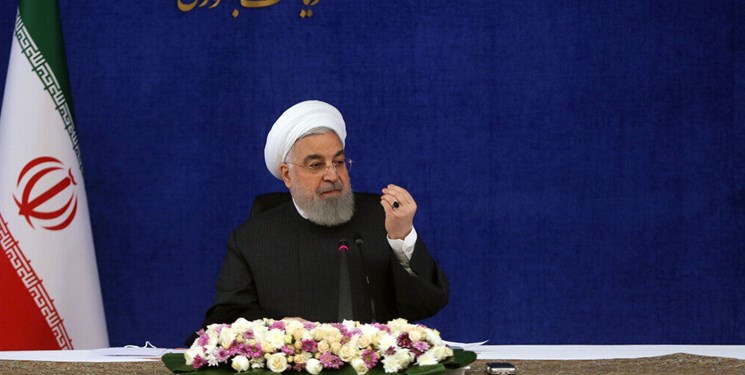 TEHRAN (FNA)- Iranian President Hassan Rouhani in a phone conversation with his Iraqi counterpart Barham Salih underlined the importance of Iraq's security for Tehran, lashing out at Washington for playing a destructive role in the region.
"Strengthening Iraq's dignity, might and independence and promoting the regional and international position of the country is specially important to us," Rouhani said during the conversation on the occasion of the start of the holy month of Ramadan on Wednesday.
He stressed that Iran considers the security of Iraq as its own security, saying, "We oppose any foreign interference in the internal affairs of Iraq and we consider it to the detriment of the country and the whole region and we believe that the security of the region should be established by the regional states. The Americans have always played a destructive role in the region."
Rouhani said that the US has always had a double-standard policy towards terrorism and its troops have carried out covert operations at the Iraqi-Syrian borders with undeclared objectives.
He also stressed the need to accelerate implementation of previous agreements between the two countries.
Salih, for his part, underscored the importance of establishment of peace and stability in the region and the need for cooperation among all neighboring states to materialize the goal, saying, "The Iraqi government has made a serious decision to end the foreign troops' deployment in the country, and strategic and continued negotiations have been held with the Americans in this regard which will continue until final results are achieved," he added.
In relevant remarks on Monday,Secretary of Iran's Supreme National Security Council (SNSC) Rear Admiral Ali Shamkhani said that withdrawal of the US troops from Iraq will boost regional stability.
Shamkhani made the remarks in his meeting with visiting Iraqi National Security Advisor Qasim Muhammad Jalal Al-Araji.
He called the US as the biggest cause of insecurity and organized terrorism, adding, "Accelerating the implementation of the Iraqi parliament's law on the expulsion of US troops from Iraq will strengthen regional stability."
The official noted that assassination of anti-terrorist commanders, Lieutenant General Qassem Soleimani and Abu Mahdi Al-Muhandis fully exposed the US' role in reinforcing Takfiri terrorism, adding, "Prosecution and punishment of the perpetrators of this terrorist crime is one of the priorities of the two countries' security cooperation, and we expect more from the Iraqi government in this regard."
Shamkhani voiced concern over the resuscitation of elements affiliated with the ISIL terrorist group in Iraq, saying, "There is credible information that the Americans, by supporting ISIL forces and moving them to different parts of the country, are trying to create insecurity to continue their presence in Iraq."
Referring to the movements of counter-revolutionary and terrorist elements in the Iraqi Kurdistan region and Northern Iraq, Shamkhani stressed the need for more Tehran-Baghdad cooperation to counter these groups.