2021-June-15 22:47
World
2021-April-17  16:07
Washington DC Accused of Using Helicopters to Bully George Floyd Protesters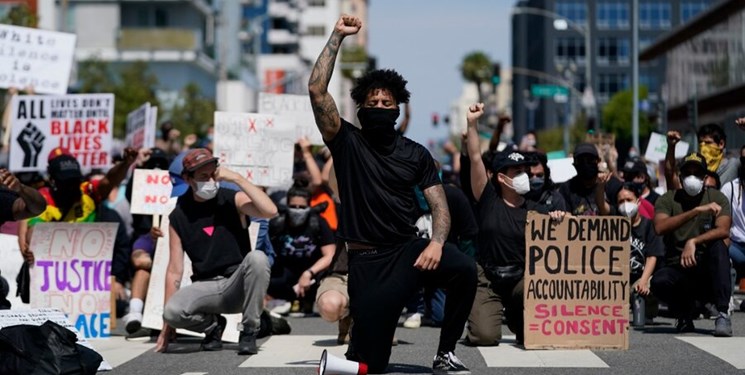 TEHRAN (FNA)- An army investigation revealed that helicopters used during George Floyd protests in June last year showed a "systemic lack of understanding" by the National Guard "of how to use military aviation to respond to civil disturbances".
The investigation into low-flying helicopters during protesters has now resulted in disciplinary action against those involved in the operation, The Independent reported.
Major General William Walker, commander of the Washington, DC Guard, launched an investigation after reports of helicopters flying low over demonstrators near Capitol One Arena on the evening of June 1.
An Army official told the media that the investigation launched by Maj Gen Walker found "that the use of the helicopters in particular ... was not prohibited by law or policy. However, there was a very general lack of understanding of how to use, how to employ helicopters in civil disturbance support operations".
However, the actions by those involved were not categorised as "misconduct" but "performance issues". In fact, the army official was quoted by reports saying that the conduct of the pilots and others involved was considered "reasonable" given the situation on the ground.
It remains unclear what action the army is contemplating against the pilots and those involved. Based on the investigation though, the army official told media that Army Vice Chief of Staff Gen. Joseph Martin "will take or has taken appropriate administrative action against a number of individuals involved in the set of circumstances."
The identifies of the soldiers who were "disciplined" has not been revealed.
Given the findings of the investigation, the National Guard shall now follow a new procedure and protocols for the use of Guard forces and aviation assets in any civil disturbances.
According to army officials, the helicopters were sent to the arena to prevent "looting and violence".
Another army official told the media that, "Immediately after this event, we instituted a very strict ... approval process for the use of the National Guard, not just [for] the Metropolitan Police Department, but any agency that is requesting them."
The official further added, "That approval process takes a hard look at everything from the orders processed, so we don't get into the interpretation of task and purpose for units, all the way down to, would aviation be approved. As you can see from that day to today, aviation has not been approved or utilized in any type of these events."