2021-May-18 18:45
Politics
2021-April-18  12:18
Iran, Serbia Ink MoU to Broaden Cooperation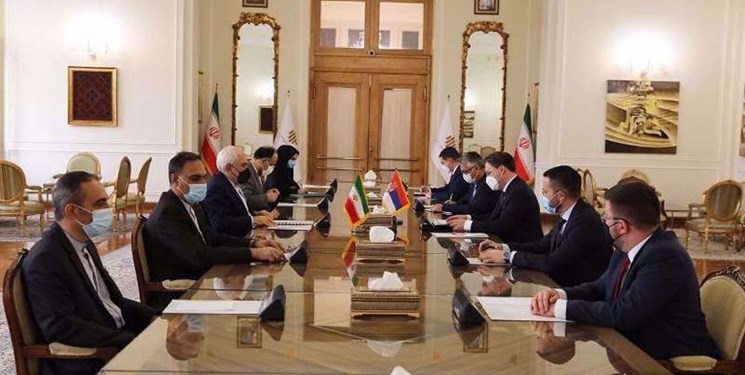 TEHRAN (FNA)- Iranian Foreign Minister Mohammad Javad Zarif and his visiting Serbian counterpart Nikola Selakovic in a meeting in Tehran signed a memorandum of understanding (MoU) to expand bilateral ties and hold consultations on regional and international issues.
Iran and Serbia would expand cordial relations based on the principles of equality, sovereignty, territorial integrity, non-interference in internal affairs, mutual respect and common interests, part of the MoU signed on Saturday reads.
It also stressed the importance of holding periodic meetings and consultations between the two countries on bilateral, regional and international issues.
Tehran and Belgrade also agreed to make joint efforts to solve regional and global crises through political and diplomatic ways.
The Serbian foreign minister arrived in Tehran earlier on Saturday and held a meeting with his Iranian counterpart.
During the meeting, Zarif pointed to historical relations between the two countries and the importance of Balkan countries in Iran's foreign policy and urged continuation of cooperation in various political, economic, trade and cultural fields by using innovative mechanisms.
The Serbian foreign minister, for his part, said the signing of the MoU would play an effective role in the expansion of relations given the two countries' high capacities, particularly in economic and industrial sectors.
Zarif and Selakovic also stressed the importance of holding the 16th session of the two countries' joint economic committee to bolster mutual relations, particularly in economic fields, issues related to the US' unilateral and cruel sanctions, regional developments, cooperation in international circles and the fight against the deadly coronavirus pandemic.
The Serbian foreign minister is also scheduled to sit down with President Hassan Rouhani, Parliament Speaker Mohammad Baqer Qalibaf and a number of other senior Iranian officials.