2021-May-15 22:48
Politics
2021-April-21  16:59
Tehran, Bratislava Intent to Broaden Ties
TEHRAN (FNA)- Vice-Speaker of Ian's Parliament Amir Hossein Qazizadeh Hashemi conferred with Slovakian Ambassador to Tehran Ladislav Ballek on the development of bilateral relations.
Qazizadeh said that boosting friendly relations between Iran and the Slovak Republic in different fields, especially in the parliamentary field, has an effective role in helping increase the level of interaction between the two countries.
"The interactions between the two countries in the fields of economy, trade and financial exchanges are of great importance," he added.
"Cooperation between the health and medical sectors of the two countries in the joint fight against the coronavirus epidemic has an important role in the development of cooperation between the two countries," the lawmaker noted.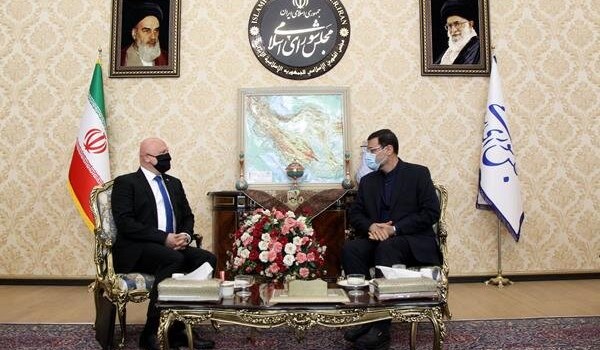 Ballek, for his part, stressed the need to increase relations between the two countries' parliaments.
He added that parliamentary interaction and communication between the two countries play an important role in development of bilateral relations and promotion of regional and international cooperation.
"Iran has a rich cultural background, and increasing interaction with the Islamic Republic of Iran in various fields is the focus of my country's diplomacy and foreign policy," Ballek noted.
In relevant remarks in mid-April, Iranian Deputy Foreign Minister Abbas Araqchi and his Slovak counterpart Ingrid Brocková discussed mutual cooperation and regional and international developments.
Araqchi underlined the ways to expand bilateral relations in political, economic, cultural, and academic fields.
He also dismissed the European Union's recent move to add the names of 8 Iranian officials to its "human rights" sanctions list, adding that Iran will suspend its comprehensive talks and cooperation with the body.
Both officials expressed their satisfaction on the expansion of relations over the past years and stressed the need to hold joint economic commissions.