2021-May-16 14:10
World
2021-April-21  16:58
Putin Warns Russia Will Find A Way to Protect Its Interests If Other Countries Refuse Dialogue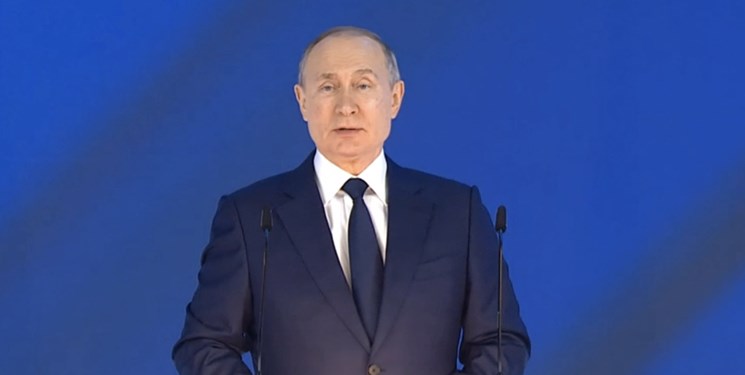 TEHRAN (FNA)- Moscow will find "asymmetrical" ways to defend its national interests if other nations refuse dialogue, Russian President Vladimir Putin warned.
"The practice of organising coups and attempts to organise assassinations of heads of state is just too much. All boundaries have been crossed," Putin said, speaking during his annual address to lawmakers from both houses of Russia's parliament on Wednesday, and referring to the recent discovery of a plot to assassinate Belarusian President Alexander Lukashenko and members of his family and to carry out a coup d'etat in Belarus, RIA Novosti reported.
The plot was uncovered by Russian and Belarusian security services, with Russia's FSB detaining two members of the Belarusian opposition in Moscow, and their Belarusian counterparts indicating that they had detained several persons believed to be backed by US intelligence services. The State Department denied any involvement in the plot.
"It is worth pointing to the confessions of the detained participants in the conspiracy that a blockade of Minsk was being prepared, including its city infrastructure and communications, the complete shutdown of the entire power grid of the Belarusian capital. This, incidentally means preparations for a massive cyberattack. And this isn't something that can be done with a single switch," Putin continued.
"Apparently, it's not for no reason that our Western colleagues have stubbornly rejected numerous proposals by the Russian side to establish an international dialogue in the field of information and cybersecurity," he added.
"Unfriendly actions toward Russia do not cease," Putin said.
"In these circumstances, we behave ourselves with utter restraint, one may even say humbly, oftentimes leaving without response not only unfriendly actions but also blatant rudeness," he stressed.
"In some countries, a nasty custom has taken root - to 'cling' to Russia on any pretext. It's like some kind of sport...We truly do not want to burn bridges, and want to have good relations with all members of the international community. But if someone perceives our goodwill as indifference or weakness, and is prepared to completely burn, or even blow up, those bridges, Russia's response will be asymmetrical, speedy and tough," Putin warned.
The president added that he hoped no foreign nation would attempt to cross any of Russia's "red lines", and compared countries trying to "bully" Russia to the tiger Shere Khan and Tabaqui the jackal from Rudyard Kipling's novel "The Jungle Book".