2021-May-15 10:50
Politics
2021-April-28  17:08
President: No Option Left for West but to Surrender to Iran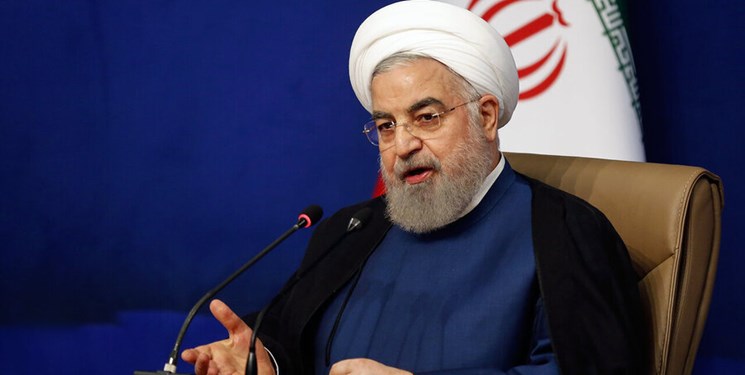 TEHRAN (FNA)- Iranian President Hassan Rouhani said on Wednesday that the US and other western states have come to this conclusion that they have no way but to surrender to Iran thanks to the country's resistance and power.
Today, the G4+1 and even the Americans realized that they must surrender to Iran and that they have no choice but to surrender to international law and regulations and the legitimacy of Iran, Rouhani said, addressing a cabinet meeting in Tehran today.
He also blasted the Zionists' role to provoke former US President Donald Trump to pull his country out of the 2015 nuclear deal.
Elsewhere, Rouhani referred to the assassination of Iran's anti-terror Commander Lieutenant General Qassem Soleimani, saying that Trump assassinated the General, however, he (Trump) was the agent of the Zionist regime. It was the Zionist regime that provoked Trump to commit such a heinous crime. 
In Afghanistan, Iraq, Lebanon, Syria, and Yemen, you can witness the traces and effects of the struggles of Martyr Soleimani in the fight against terrorism, Rouhani said.
In relevant remarks on Tuesday, Rouhani said the US has no other choice but to remove all sanctions, adding that Washington admits the failure of economic war against the Iranian nation.
"There is no other way [for US] but to agree with Iran and lift sanctions today and this is a great success for the Iranian people," Rouhani said, adding, "Today with resistance of the people and the Supreme Leader's instructions, the whole world and the US itself acknowledge that the economic war has been defeated." 
"The expansion of activities and the increase of the number of knowledge-based enterprises in the country has changed Iran's economy," he went on to say.
Also, in March, Rouhani said that the enemy has devised the maximum pressure through sanctions to defeat the Iranian nation, but the maximum resistance of the nation has brought another honor for Iran.
"The enemy [the US] devised maximum pressure through sanctions to bring Iranian nation to its knees," Rouhani said, adding, "but the nation caused another honor for Iran."  
He said the cruel sanctions are in direct relation with the people's livelihood, calling for coordinated efforts of the three branches of the Islamic establishment to alleviate economic pressures on people.