2021-May-15 10:42
Politics
2021-May-1  20:13
Iran, Afghanistan Ink Border Agreement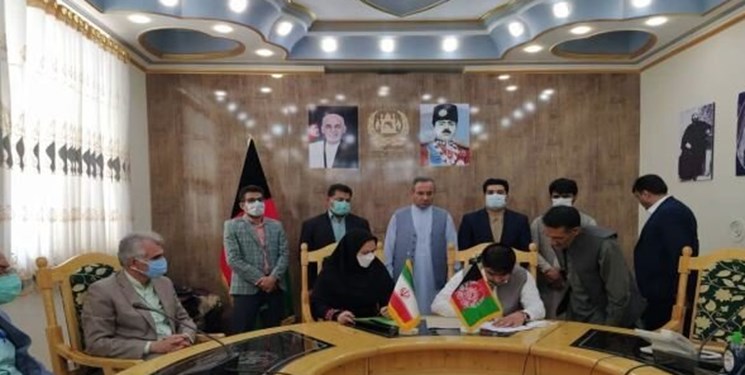 TEHRAN (FNA)- Iranian and Afghan officials in a meeting signed an agreement to broaden cooperation at common borders.
The agreement was signed between officials of Sistan-Balouchestan province in Southeastern Iran and Nimruz province of Afghanistan.
Deputy Governor General of Sistan-Balouchestan for Economic Affairs Mandana Zangeneh made the announcement on Saturday.
"Improving the livelihoods of border residents of both sides is one of the most important effects of the joint border of Sistan and Baluchestan of Iran and Niruz province of Afghanistan," Zanganeh stressed.
In a relevant development in late April, Iran's Ambassador to Afghanistan Bahador Aminian and Afghan Deputy Foreign Minister Meerwais Nab in a meeting in Kabul  underlined the need to expand mutual cooperation in different fields.
During the meeting in Afghanistan's capital on April 19, Aminian and Nab explored the avenues for bolstering and reinvigorating bilateral relations in various areas.
During the meeting, the Afghn deputy foreign minister thanked Iran for its cooperation on strengthening the regional consensus to support the Afghan peace process.
He outlined significance of expanding cooperation between Afghanistan and Iran in line with establishing peace in the country and in the entire region.
The Iranian ambassador, for his part, reaffirmed Iran's commitment to continue comprehensive cooperation with Afghanistan, specially in line with the success of peace talks, preservation of the constitution and the achievements of the past two decades with Afghanistan.
In a relevant development on Monday, the Iranian foreign ministry announced that the country continues the policy of paving the ground for talks among different Afghan groups to attain sustainable peace and security in Afghanistan.
"Fully secure and stable Afghanistan is a high priority to us. Peace talks should be intra-Afghan talks. Iran is always ready to cooperate. We tried to get all Afghan groups to enter into talks with the Afghan government, and this is our policy today too, and we have always tried so that talks will be held within the intra-Afghan framework," Foreign Ministry Spokesman Saeed Khatibzadeh said.
He added that special representative of the Iranian Foreign Ministry for Afghanistan Affairs Mohammad Ebrahim Taherian Fard had on Monday morning held talks with Head of Afghanistan's High Council for National Reconciliation Abdullah Abdullah on the recent intra-Afghan summit in Istanbul, noting that Iran will consider attendance in the meeting if the Istanbul talks are based on the principles declared earlier.
Last week, Taherian Fard stressed the country's full support to achieve lasting peace and stability in Afghanistan.
In a telephone conversation with the Afghan Minister of Foreign Affairs Hanif Atmar, he said that Tehran fully supports the process of peace talks in the neighboring country.
During the phone talk, the two sides discussed latest situation in Afghanistan especially process of intra-Afghan peace talks and Istanbul Summit.
Also last Monday, he had a phone conversation with Abdullah Abdullah, during which the two sides discussed bilateral ties, latest developments in the peace talks and the ways to achieve lasting peace and stability in the Central Asian country.
In relevant remarks on March 31, Iranian Foreign Minister Mohammad Javad Zarif in a Twitter message underlined that the United Nations should play a much more active role than before in Afghanistan's peace process.
"Participants of the Heart of Asia Conference in Tajikistan stressed the UN role in inclusive Afghanistan peace talks," Zarif tweeted.
The Iranian foreign minister wrote that there were extensive talks at the Heart of Asia meeting in Dushanbe where issues of Afghanistan, regional and global issues and mutual cooperation were on agenda with presidents and foreign minister of Tajikistan and Afghanistan, as well as foreign ministers of Azerbaijan, India, Pakistan, Turkey.