2021-June-15 22:48
Politics
2021-May-6  15:01
Iran's Top Commander: Palestinian Intifada Ready to Uproot Occupiers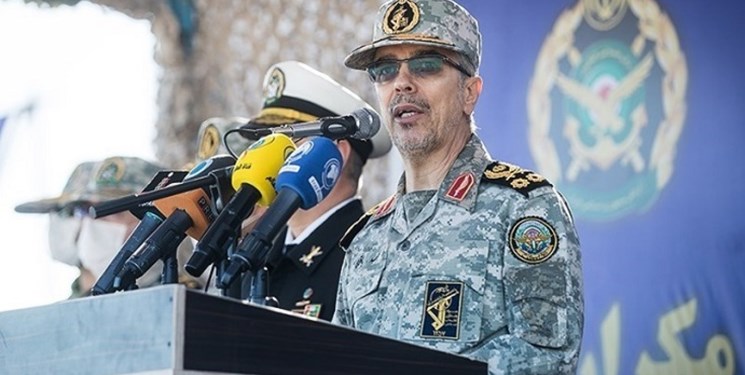 TEHRAN (FNA)- Chief of Staff of the Iranian Armed Forces Major General Mohammad Hossein Baqeri underlined the Palestinian resistance forces' increasing power, saying that the Intifada is prepared to uproot the Zionist regime.
"We warn the Zionist regime, which has recently suffered the bitter and deadly blows of the resistance front and the powerful Palestinian intifada, … that the [current] intifada, which has evolved from 'stone' [throwing] to 'rocket' [launching] and is on the verge of 'deterrence', is readier than ever to uproot the occupiers with the help of the resistance front and the Islamic Ummah," General Baqeri said on Wednesday.
He said that Quds Day was a big test to prove support for the oppressed Palestinian nation and disavowal from the oppressors incarnate that is the "criminal America and usurper Israel."
A durable legacy and a strategic initiative by Imam Khomeini, Baqeri said, Quds Day has been regarded as "one of the most important and influential events in the course of resistance and fight of the Muslim and oppressed people of Palestine against oppression, crime and occupation."
The event "has managed to form the global anti-Zionist movement and an awakening front in the regional and international arena through mobilizing and unifying power in the Islamic world," he added.
The senior commander called into question Western countries' claim of advocating human rights as they stood silent on the crimes against the Palestinian nation, asking, "Which global institution or power is responsible for responding to the myriad list of massacres, warmongering, bombings and other crimes in the Islamic world, especially in the occupied territories?"
"Today, the world monitors, counts and provides media coverage of … the number of coronavirus victims around the world, but no one asks who is responsible for the death of hundreds of thousands of those killed, held captive or gone missing from Palestine and other countries where the United States, Europe and the Zionist regime are waging war. And why are they indifferent to the oppression of the Palestinian people and the restoration of their rights, (while) on the contrary, they openly and brazenly support the Zionist aggressors," he added.
He also took the US responsible for brokering normalization agreements between Israel and certain Arab countries, and said the scheme will fail like other conspiracies, including the Greater Middle East.  
He made the remarks in a Wednesday message to mark the upcoming International Quds Day, the last Friday of the holy Muslim fasting month of Ramadan, which was designated by the late founder of Iran's Islamic Revolution Ayatollah Khomeini in 1979 to express support for and solidarity with the people of Palestine in the face of Israeli aggression.  
This year's Quds Day falls on May 7 and coincides with Israel's ongoing escalated acts of aggression against Palestinians in the occupied territories.