Politics
2021-May-7  15:09
Speaker's Aide: No Place for Israel in Region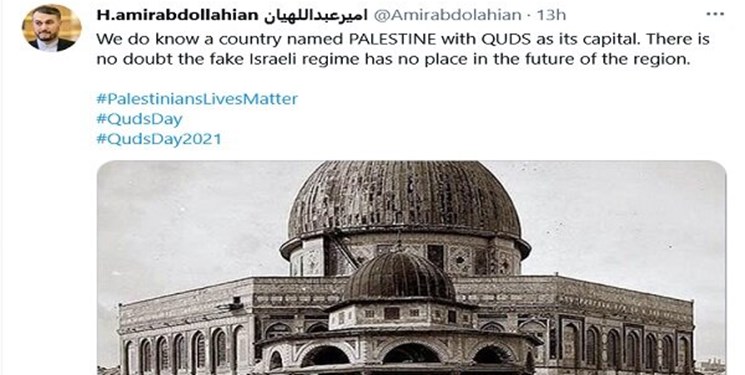 TEHRAN (FNA)- Iranian Parliament Speaker's Advisor for International Affairs Hossein Amir Abdollahian blasted Israel for its atrocities against the Palestinians, and said that the fake regime of Tel Aviv has no place in the future of the region.
"We do know a country named PALESTINE with QUDS as its capital," Amir Abdollahian tweeted on Thursday.
"There is no doubt the fake Israeli regime has no place in the future of the region," he added.
His remarks came on the occasion of International Quds Day which falls every year on the last Friday of fasting month of Ramadan.
The International Quds Day is an annual event opposing Israel's occupation of Beitul-Muqaddas. Anti-Zionist rallies and demonstrations are held on the last Friday of Ramadan in Muslim and Arab countries around the world, specially in Iran, as well as a large number of non-Muslim states.