2021-June-14 18:50
Paper: MESA Not to Require US to Take Military Action in Case of Aggression against Arab States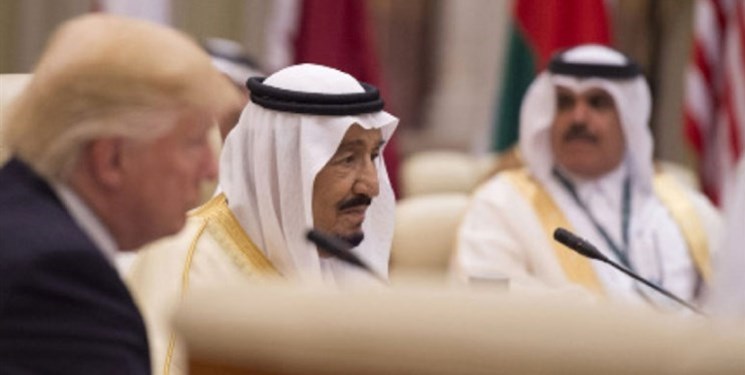 TEHRAN (FNA)- A Lebanese newspaper revealed that the Middle East Strategic Alliance, a security partnership between the Persian Gulf Cooperation Council (PGCC) nations, including Bahrain, Kuwait, Oman, Qatar, Saudi Arabia and the UAE, with the addition of Jordan and Egypt, and the US does not require Washington to take military action to defend other MESA members against foreign aggression.
The Arabic-language al-Akhbar newspaper reported that one of the main goals of MESA is to reform the system to protect the security of the Persian Gulf Arab states based on Trump's famous "you must pay".
Based on the report, the released documents call on all parties to speed up the process of "armaments deals with the US and a commitment to sign a military deal to establish a joint system in the region to provide rapid alert about ballistic missiles".
Also in the agreement, it has been emphasized that "in case of any aggression, we (the US) are not required to take any military action (to defend the Arab members of the MESA)", the Lebanese paper has found out.
It added that the Saudi side which was so much enthusiastic to sign the agreement realized that the idea of MESA has very little benefits for its Arab members, including Riyadh.
MESA was first announced during former US President Donald Trump's visit to Saudi Arabia in May 2017.
The agreement would certainly impose limits on the region's increasing arms purchases from European countries and, most importantly, Russia and China.
Meantime, some Arab members do not agree that Iran is an imminent danger, nor do they agree on the best way to deal with it. While US, Saudi, UAE, and Bahraini statements express a need for MESA to confront Iran, Egyptian, Jordanian, and even Qatari officials have publicly expressed reluctance. Kuwait and Oman have not shown fervent support for MESA. Aside from Saudi Arabia, Bahrain, and the UAE, no other country involved supports military action against Iran. Kuwait, Qatar, and Oman preach and practice engagement with Tehran instead of confrontation.