2021-July-24 21:12
Economy
2021-May-11  14:58
Iran Produces +C5 Condensate in Ethane Complex in Assalouyeh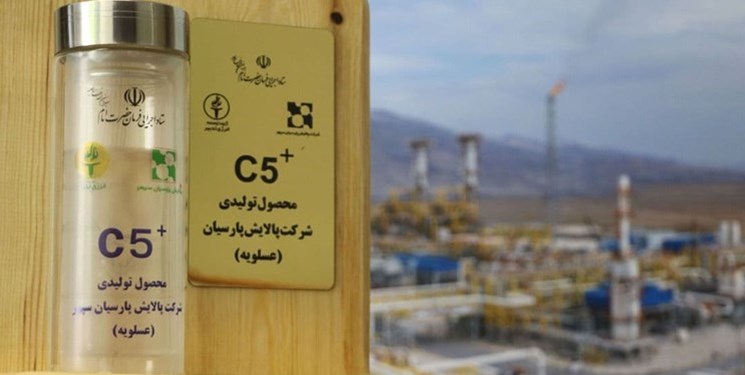 TEHRAN (FNA)- Experts at Iran's Headquarters for Executing the Order of Imam (HEIKO) used the latest state-of-the-art technology to mass-produce +C5 condensate at ethane extraction complex in Assalouyeh in Southern Iran.
The product is one of the rich and expensive condensates that has been produced by means of modern and up-to-date technology and is applied in production of 'high-tech' gasoline and fuel.
The natural gas extracted from gas reservoirs mainly contains a significant amount of gas condensate or liquid hydrocarbons, which are mainly composed of pentane and heavier hydrocarbons, including +C5, and can be converted into kerosene, gasoline and jet fuel in various methods.
Gas condensate produced by Parsian Sepehr Refinery is not only one of the most transparent products in this field due to the lack of H2S and mercaptan as well as low water content and separation of sulfur from it, but also it is environmentally friendly due to the lack of pollutants.
Iran produces different types of gas condensates. Production of gas condensate increased in phases 6, 7 and 8 of the South Pars Gas Field, an official said in January.
Behzad Salari said that nearly 18.1 million barrels of gas condensate have been produced at the refinery in the first seven months of the past Iranian year (March 20- October 21, 2020), indicating a 14% hike compared with last year's 15.9 million barrels.
Iran's gas exports have also increased after the production growth at SPGF.
SPGF, shared with Qatar, is the world's largest gas field with an area of 9,700 square kilometers.
Iran exports an average of 80 million cubic meters of gas per day.
In relevant remarks on December 30, Managing Director of Pars Oil and Gas Company Mohammad Meshkinfam said that the gas condensate storage of SPGF's phase 14 has been put into operation, adding that the completion of the new storage will boost reservoir capacity of gas condensates in the complex.
"The company will also build the second storage for gas condensates," Meshkinfam said, adding that the preparations are underway for construction of the third storage and designing the project will be worked out by the end of January 2021.