2021-June-15 02:05
Society_Culture
2021-May-11  16:37
Official: Anti-Coronavirus COV-Iran Vaccine Enjoys Necessary Immunity Factors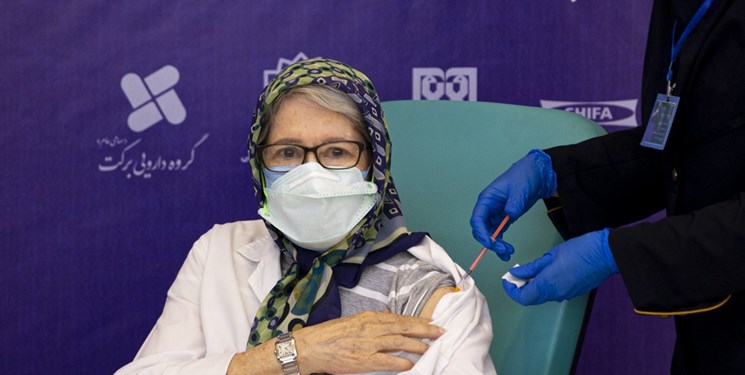 TEHRAN (FNA)- Senior member of Iran's National Task Force for Fighting COVID-19 Minou Mohraz said on Tuesday that the coronavirus vaccine, COV-Iran, which has been developed by Iranian scientists at the Headquarters for Executing the Order of Imam Khomeini (HEIKO), gives immunity to receivers.
"The (COV-Iran) vaccine will be presented to the market soon and it enjoys necessary factors considering effectiveness and immunity," said Mohraz, also a senior member of the team to assess the efficiency of the Iran-made vaccine.
She added that by mass-production of COV-Iran vaccine, the country will no more need imports.
The first industrial production line for the domestically-developed vaccine was launched on Tuesday with a capacity to produce 3 million doses a month, a medical official announced.
"Mass production of the vaccine would start as soon as the results of the third clinical test for the vaccine are confirmed by the Health Ministry," the official in charge of COV-Iran Barekat COVID-19 vaccine project Reza Mazhari said.
He also said that the second production line for the vaccine with the capacity to produce up to 17 million doses in a month is under construction and would be launched within next two months.
"Public vaccination with COV-Iran Barekat is going to start in mid-June after clinical results are confirmed," Mazhari added
Head of HEIKO's information office Hojjat Niki Maleki said late in April that the efforts of the Iranian scientists have yielded fruit and within a couple of weeks the country will produce some 1 million doses of COV-Iran Barekat vaccine.
He added that another 3 million doses are expected to be produced by June 20.
In relevant remarks late last month, Head of HEIKO Mohammad Mokhber said that nearly 30 million doses of COV-Iran Barekat vaccine will be produced and delivered to the health ministry.
"One million doses of the vaccine will be produced this month, 3 million doses next month, 10 to 12 million doses in July, and 13 to 15 million doses in August," Mokhber said, adding that the vaccines would be given to the Health Ministry for vaccination.
He noted that from September, 20 million doses of the vaccine would be produced monthly.
The official pointed out that people's concerns regarding the virus would be resolved within the next 3 to 4 months.
He concluded that all Iranian vaccines had achieved the human testing phase and desirable results, but COV-Iran Barekat has had fewer side effects.