2021-September-16 20:35
Politics
2021-May-12  13:12
Qalibaf Urges UN Chief, Parliament Speakers to Condemn Israeli Crimes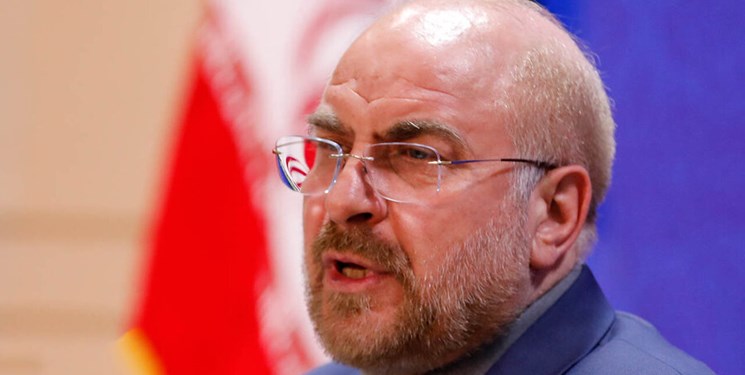 TEHRAN (FNA)- Iran's Parliament Speaker Mohammad Baqer Qalibaf called on UN Secretary General Antonio Guterres and parliament speakers to condemn Israel's invasion of the Al-Aqsa Mosque and massacre of the worshipers there.
"As you are informed, on Friday, May 7, 2021, the Zionist regime committed the grave crime of invading the Al-Aqsa Mosque and massacring and injuring a large number of fasting and worshiping Palestinian citizens, whose only crime was praying Almighty God," Qalibaf wrote in his letters, asking Guterres and world speakers to deplore the heinous crimes of Israel.
"This continuation of Israel's war crimes is obvious violation of international human rights. The right to hold peaceful gatherings, including religious rituals are among the most natural recognized rights, under the charter of the civil and political rights, as well as the other related international documents," he added.
"Today the oppressed and defenseless Palestinian people are exposed to the brutal invasion of the Zionist regime against the entire international norms," the speaker noted, adding, "Israel rudely tramples upon all international laws and keeps on mounting its treacherous and notorious acts against the Palestinians."
"You are expected to take utmost efforts to put an end to this systematic and broad breaching of the rights of the Palestinian citizens, and demand legal sentencing of the criminals and their accomplices," Qalibaf concluded in his letters.
At least 21 Palestinians have been killed in Israeli air raids on the besieged Gaza Strip, according to the Palestinian health ministry.
Earlier on Monday tensions at the compound, the third holiest in Islam which is also revered by Jews, escalated with more than 300 Palestinians wounded when Israeli police stormed the mosque, firing rubber bullets, stun grenades and tear gas.
Earlier on Tuesday, Qalibaf deplored the recent killing and injuring of the Palestinians in the al-Aqsa Mosque and Gaza, stressing that the resistance front and the Islamic Ummah will defeat the Zionist regime.
"The Iranian parliament condemns the crimes committed by the usurping Zionist regime's desecration of the al-Aqsa Mosque and killing of the oppressed people of Palestine, specially the children," Qalibaf said, addressing an open session of the parliament on Tuesday.
He blasted Israel for its daily crimes and violations of human rights gainst Palestinians, and slammed the international organizations for their silence on the crimes.
"They should rest assured that the Islamic Ummah is standing against the genocide that is taking place, and the people of Gaza always take action against the Quds occupying regime," Qalibaf said.
He also lashed out at certain Arab states for normalizing relations with Israel, and said, "They should know that the Islamic Ummah and the resistance forces will stand against these crimes and will win."