2021-June-15 02:30
Politics
2021-May-12  14:54
Rouhani Urges Muslim Countries to Condemn Israeli Crimes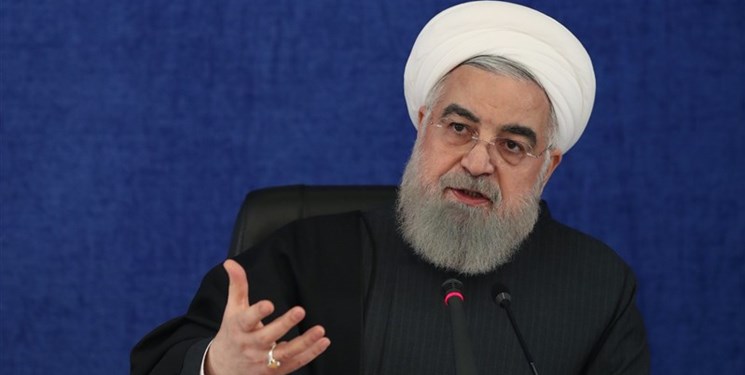 TEHRAN (FNA)- Iranian President Hassan Rouhani condemned the recent Israeli attack on Al-Aqsa Mosque, calling for Muslim countries' condemnation of the criminal move.
Rouhani said it is the duty of all Muslim nations to support the Palestinian people and condemn the Zionist regime, adding that there is no way for the Palestinian people other than resistance.
At least 21 Palestinians have been killed in Israeli air raids on the besieged Gaza Strip, according to the Palestinian health ministry.
Earlier on Monday tensions at the compound, the third holiest in Islam which is also revered by Jews, escalated with more than 300 Palestinians wounded when Israeli police stormed the mosque, firing rubber bullets, stun grenades and tear gas.
Rouhani also pointed to the recent terrorist blast in Kabul which killed scores of schoolgirls and injured more others, and extended his condolences to the families of the victims.
The death toll in a bomb attack that targeted schoolgirls in Kabul on Saturday has risen to 85.
Another 147 people were wounded in the attack in front of the Sayed Al-Shuhada school, said Danish Hedayat, head of media for the second vice president of Afghanistan.
A car bomb was detonated in the neighborhood of Dasht-e-Barchi, and two more bombs exploded when students rushed out in panic.
There has been no official claim of responsibility yet. The Taliban has denied being behind Saturday evening's blasts.
In relevant remarks on Tuesday, Iranian Parliament Speaker Mohammad Baqer Qalibaf deplored the recent killing and injuring of the Palestinians in the al-Aqsa Mosque and Gaza, stressing that the resistance front and the Islamic Ummah will defeat the Zionist regime.
"The Iranian parliament condemns the crimes committed by the usurping Zionist regime's desecration of the al-Aqsa Mosque and killing of the oppressed people of Palestine, specially the children," Qalibaf said, addressing an open session of the parliament on Tuesday.
He blasted Israel for its daily crimes and violations of human rights gainst Palestinians, and slammed the international organizations for their silence on the crimes.
"They should rest assured that the Islamic Ummah is standing against the genocide that is taking place, and the people of Gaza always take action against the Quds occupying regime," Qalibaf said.
He also lashed out at certain Arab states for normalizing relations with Israel, and said, "They should know that the Islamic Ummah and the resistance forces will stand against these crimes and will win."