2021-September-16 20:45
Israel Vows More Attacks on Gaza Before Any Truce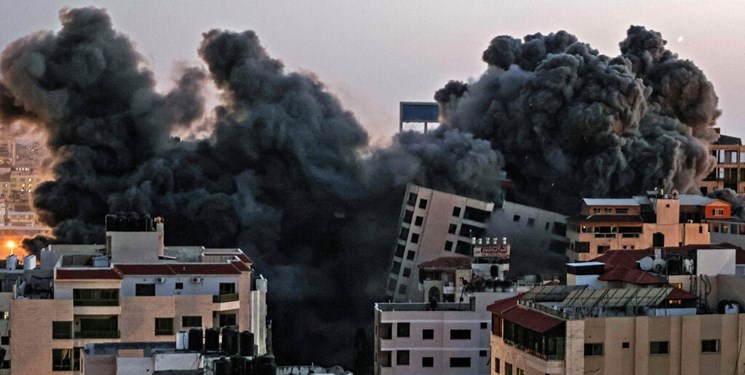 TEHRAN (FNA)- Israeli Defense Minister Benny Gantz said there is no specific date to end Tel Aviv's offensive on the Gaza Strip.
"The IDF [Israeli Army] will continue to strike and bring complete silence for the long-term," he stated, speaking from the Southern city of Ashkelon.
"In Gaza, towers are falling, factories are collapsing, tunnels are being wiped out and commanders are being assassinated," he added.
Israeli Army Spokesman Jonathan Conricus noted he expected the fighting to intensify and, when asked about unconfirmed reports that Hamas might seek a ceasefire, stated, "I don't think my commanders are aware, or particularly interested."
Prime Minister Benjamin Netanyahu has also announced that Israel will expand its military operations in Gaza.
Hamas head Ismail Haniya said he had told mediators the problem is not with Gaza but with Israel, adding that the group Hamas is "ready" if Israel increases its attacks.
"If (Israel) wants to escalate, we are ready for it, and if it wants to stop, we're also ready," Haniya noted.
The Israeli Army announced that about 1,500 rockets have been fired from Gaza towards various locations in the occupied territories.
A night of heavy bombardment on the Gaza Strip has continued into Wednesday morning as Israeli warplanes launched intensive raids on various locations across the besieged coastal territory.
Local sources stated that Israeli fighter jets bombed sites belonging to Palestinian resistance groups, in addition to security and police buildings, as well as residential areas.
The Gaza Health Ministry announced that the number of Palestinians killed from Israeli air raids is now at 48 Palestinians, including 14 children and three women. At least 300 others have been wounded.
A Palestinian teenager has been shot dead by Israeli forces during a raid on Aqaba village, East of the occupied West Bank town of Tubas. Rashid Abu Arreh, 16, was killed after Israeli forces raided the village to arrest another Palestinian, Sheikh Mustafa Abu Ara.
Medical sources also noted that Hussein Al-Titi, 26, was shot dead during protests against the Israeli Army in Al-Fawwar refugee camp, South of Hebron.
The International Criminal Court (ICC) has expressed concern about escalating violence in the occupied West Bank and the possibility that war crimes are being committed there, according to Prosecutor Fatou Bensouda.
"I note with great concern the escalation of violence in the West Bank, including East Jerusalem, as well as in and around Gaza, and the possible commission of crimes under the Rome Statute," Bensouda wrote on Twitter.