2021-June-15 02:02
Politics
2021-May-13  17:30
Iranian Students, People Hold Rallies to Protest at Israeli Attacks on Gaza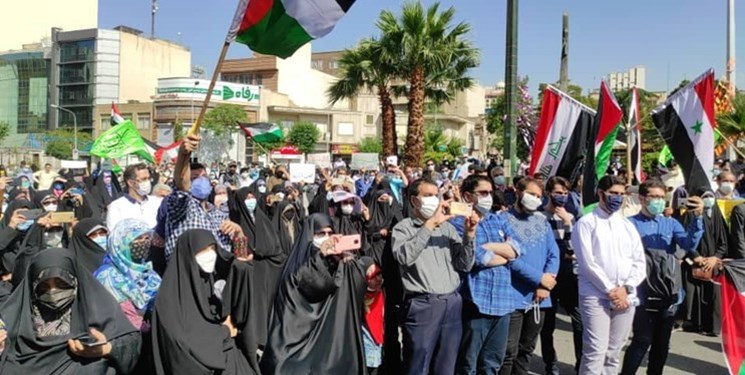 TEHRAN (FNA)- A large number of Iranian students and people held a protest rally in Tehran on Thursday against Israel's recent crimes and attacks on Gaza and in support of the oppressed Palestinian people.
After the prayers of Eid al-Fitr, which marks the end of the holy fasting month of Ramadan, the university students and people rallied from the University of Tehran to Palestine Square in Tehran by meeting health protocols amid the coronavirus outbreak.
People carried a 20-meter Palestinian flag during the rally, chanting slogans, including "Israel Commits crimes, US supports", "We should unite against the occupying regime", "When we win, freedom for Jerusalem will come", "Death to the US" and "Death to Israel" and expressing their anger at the crimes of the usurping Zionist regime.
People and students also set fire to the Israeli and American flags during the rally.
At the end of their rallies, the ralliers issued a statement.
"Today, death and destruction are closer to the Zionist regime than ever before. Stone is no longer the only weapon of the Palestinian resistance, and the world is witnessing extensive rocket attacks by the Palestinian Islamic Resistance against the cities of Tel Aviv and Haifa. Now that the world has seen this show of authority, we warn all governments, specially the Arab sheikhdoms of the region, who think of normalizing ties with the Zionist regime that a bitter end awaits them and their governments," the statement said.
"We also express our support and solidarity with the Palestinian resistance groups, including Hamas and Islamic Jihad, and other resistance groups in the region," it added.
"May we soon witness the destruction of the Zionist regime and the liberation of Palestine and Holy Quds," the statement concluded.
Thousands of Palestinian worshippers gathered at Al-Aqsa Mosque compound in Jerusalem on Thursday to mark the end of Ramadan and celebrate Eid Al-Fitr, one of the holiest days in Islam.
The celebration has been marred with violence, as Israel continues its air raids targeting areas in the Palestinian territory of Gaza.
Palestinian residents of Gaza Strip woke up on Thursday to mark Eid Al-Fitr amid relentless aerial bombardment by Israel. Heavy bombardment on the Gaza Strip continued on Thursday as the Israeli Army launched a series of air raids on various locations.
Since the Israeli offensive began late on Monday, Gaza's Health Ministry announced at least 83 people, including 17 children, have been killed. More than 480 others have been wounded.