2021-June-16 00:35
Death Toll from Israeli Assaults on Gaza Strip Climbs to 174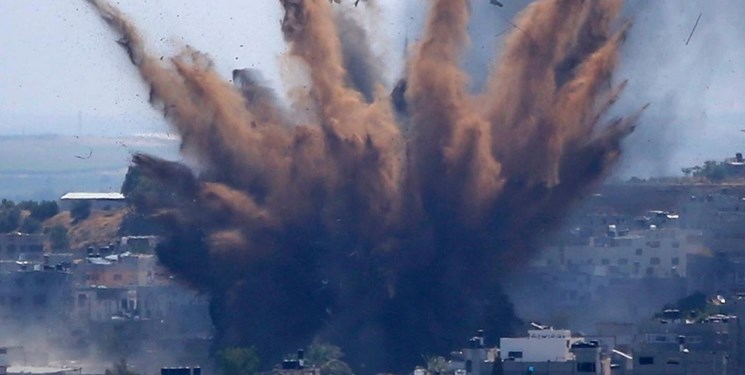 TEHRAN (FNA)- At least 174 people, including tens of children, have been killed and over 1,200 others wounded in Israeli strikes on the Gaza Strip, the Palestinian Health Ministry announced on Sunday.
Israel's bombardment of the Gaza Strip entered its seventh consecutive day with air raids early on Sunday killing at least 25 Palestinians and wounding dozens more.
At least 174 Palestinians, including at least 47 children and 29 women, have been killed in the Gaza Strip in the past week, while more than 1,200 others have been wounded.
Israel's Prime Minister Benjamin Netanyahu warned that attacks on the Gaza Strip would continue as long as they were necessary, claiming that Israel shows "special care" to avoid civilian deaths in attacks on Gaza.
Hamas' first rocket barrage on Monday night followed days of heated protests over looming evictions of Palestinian residents of East Jerusalem, prompting police crackdowns and violent clashes with security forces that left hundreds of demonstrators injured.
IDF bombing raids started soon after, seeing hundreds of strikes on Gaza, some leveling high-rise structures, including apartment blocks and media offices. The military also claims to have struck dozens of Hamas targets and assassinated several senior officials in the organization.
Hamas Chief Ismail Haniyah has stated the group repeatedly warned Israel not to touch Al-Aqsa Mosque.
"We have repeatedly warned the enemy not to touch Al-Aqsa Mosque, which is our qibla, our identity, our belief, and the trigger of our revolutions," Haniya said in a video conference in Qatar's capital, Doha, in support of Palestinians.
He added that Al-Aqsa Mosque is the group's "red line" and it told Netanyahu not to play with fire.
"Jerusalem and Al-Aqsa Mosque form the basis of the struggle against Zionism," he noted.