2021-September-16 20:26
Gaza Tower Owner Denies Israeli Claims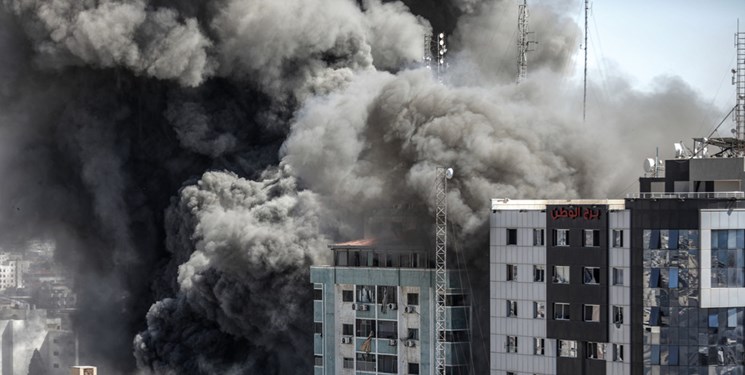 TEHRAN (FNA)- The owner of a bombed high-rise building in Gaza City housing offices of international media outlets denied his building contain assets of Hamas intelligence agency after an air attack launched by Israel obliterated the 12-story building.
Jawad Mehdi, the owner of the Jala Tower, said no evidence for the claim has been provided by the Israeli authorities, Al-Jazeera reported.
"Apart from the tenants, there are some offices of lawyers, engineers and some media agencies including Al Jazeera and AP. Nothing else," Mehdi added.
The bombing of Jalaa, widely condemned as an attempt to "silence" journalists covering Israel's offensive, came just hours after an Israeli airstrike at Shati refugee camp killed 10 members of the same family – eight children, two women – celebrating Eid Al-Fitr, the religious festival marking the end of the holy month of Ramadan.
At least 174 Palestinians, including 47 children, have been killed in the Gaza Strip since Israeli raids on the coastal Palestinian territory began on Monday. About 1,200 others have been wounded.
The violence comes after Israel's plan to forcibly displace Palestinian families from occupied East Jerusalem and its attacks on Palestinian worshippers at the Al-Aqsa Mosque compound spurred widespread protests in Jerusalem and the occupied West Bank..
Hamas announced it began firing rockets towards the occupied territories in response to that Israeli crackdown.
The United Nations Security Council is due to meet later on Sunday to discuss the worst outbreak of violence in years in Palestine and Israel.
European Union foreign ministers will hold urgent video talks on the escalating fighting between Israel and the Palestinians, the bloc's foreign policy chief stated.
"In view of the ongoing escalation between Israel and Palestine and the unacceptable number of civilian casualties, I am convening an extraordinary VTC of the EU Foreign Ministers on Tuesday. We will coordinate and discuss how the EU can best contribute to end the current violence," Josep Borrell wrote on Twitter Sunday.