2021-September-16 19:52
Islamic Jihad: Bombing of Residential Areas Best Evidence of State Terrorism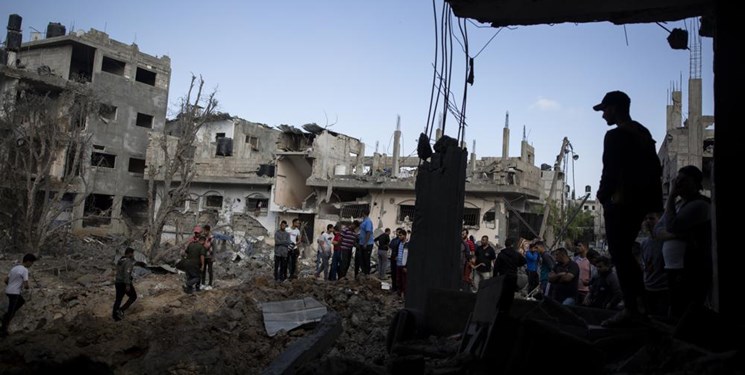 TEHRAN (FNA)- Targeting residential areas and killing civilians is the most severe evidence of state terrorism by the Israeli regime and its army, the Islamic Jihad Movement in Palestine stated, as Tel Aviv's bombardment of the Gaza Strip entered its seventh consecutive day.
The movement announced in a statement that the resistance groups have achieved important goals and plans to complete this victory to avenge the blood of the children killed by Israel.
The raids launched by the Israeli jets on the Gaza Strip at dawn is an attempt to intimidate citizens after receiving heavy blows from the resistance groups, the movemen stated.
"The only way to stand up to these assassins is to resist," the statement said, adding, "The bombing of towers and civilian institutions is the best evidence of Zionist state terrorism."
On Saturday, Israel Defense Forces (IDF) have destroyed a building where offices of international media outlets were located. The tower also housed a number of other offices as well as some apartments.
It is not the first time Israel has targeted the Gaza buildings housing various media outlets. Earlier this week, the IDF also struck two high-rise towers hosting some 20 media outlets, prompting accusations of deliberate attempts to silence the local press.
The bombing of Jalaa, widely condemned as an attempt to "silence" journalists covering Israel's offensive, came just hours after an Israeli airstrike at Shati refugee camp killed 10 members of the same family – eight children, two women – celebrating Eid Al-Fitr, the religious festival marking the end of the holy month of Ramadan.
At least 180 Palestinians, including 52 children, have been killed in the Gaza Strip since Israeli raids on the coastal Palestinian territory began on Monday. About 1,200 others have been wounded.
The violence comes after Israel's plan to forcibly displace Palestinian families from occupied East Jerusalem and its attacks on Palestinian worshippers at the Al-Aqsa Mosque compound spurred widespread protests in Jerusalem and the occupied West Bank.
Hamas announced it began firing rockets towards the occupied territories in response to that Israeli crackdown. At least 2,800 rockets have been fired towards the occupied territories. Several Israelis were killed amid the rocket attacks.