2021-July-28 17:47
Politics
2021-May-17  14:13
Iran, Iraq Vow to Widen Agricultural Ties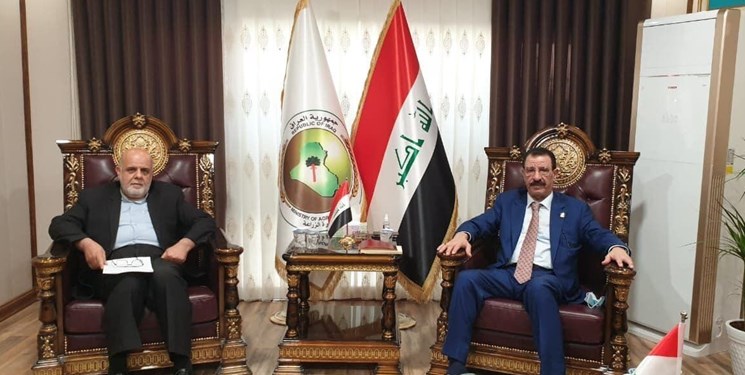 TEHRAN (FNA)- Iran's Ambassador to Iraq Iraj Masjedi and Iraqi Agriculture Minister Karim al-Khafaji in a meeting in Baghdad underlined the need to broaden mutual cooperation in the agricultural field.
During the meeting in the Iraqi capital city on Sunday, Masjedi and al-Khafaji explored avenues for bolstering and rinvigorating bilateral relations in different economic fields, specially in the field of agriculture.
During the meeting, the two officials discussed a variety of issues between the two neighboring countries.
They also reviewed methods of enhancing cooperation in agriculture, as well as al-Khafaji's trip to Iran and presence of Iraqi economic missions in Isfahan's poultry and livestock exhibition in the future.
In a relevant development on Sunday, Masjedi pointed out Iraq's geographical situation, saying that it can replace other countries for transiting goods to Iran.
"Tehran and Baghdad share many commonalities for cooperation," Masjedi said, adding that Iraq can act as one of the largest transit destinations in the region and a bridge between the West and the East.
He noted that Iraq can connect to China via Iran's railways.
The envoy emphasized that presently the 1,600 kilometers of common borders between Iran and Iraq are quite secure.
In relevant remarks early May, top Iranian and Iraqi border officials in a meeting reviewed ways to upgrade level of cooperation on border issues.
Commander of the Border Guards of the Islamic Republic of Iran Police Brigadier-General Ahmad Ali Goudarzi, in a meeting with Iraqi border official at Sulaimaniyah in East of Iraqi Kurdistan region Ramazan Ahmed al Davoudi, exchanged views on bolstering border security.
Goudarzi stressed that the aim of the meeting was to discuss ways to prevent illegal commutation through borders.
He underlined the need to develop further cooperation in borders and hold regular meetings to maintain security in borders.