2021-June-13 10:46
Politics
2021-May-17  17:35
Iranian President: US Deployment Not to Establish Security in Iraq
TEHRAN (FNA)- Iranian President Hassan Rouhani in a phone conversation with Iraqi Prime Minister Mustafa al-Kadhimi said that presence of the US military forces in Iraq will not bring peace and security to the country.
"The US is playing a double-standard role in the fight against terrorism, and its operations at the Iraqi-Syrian border are under question. The Americans have always played a destructive role in the region, and their presence in Iraq will not contribute to the stability and security of the country," Rouhani said on Monday.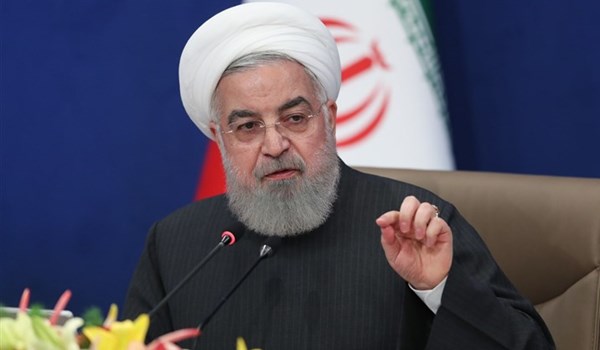 He also welcomed Baghdad's positive role as a mediator in resolving disputes between countries in the region, supporting Iraq's presence as an important Arab League member in regional interactions.
"The ISIL terrorist group remains a significant security threat in the region, and cooperation between the two countries is essential to counter this terrorist group," Rouhani said.
He also blasted the recent attacks on Iran's diplomatic missions in Iraq by certain individuals and groups, stressing the need for the Iraqi government to respond decisively and quickly to these attacks.
Al-Kadhimi, for his part, underscored the necessity for serious fight against the ISIL in the region, lauding Iran's cooperation in this regard.
He emphasized the need to develop and deepen bilateral and regional relations between Tehran and Baghdad, saying that the Basra-Shalamcheh railway construction agreement has been approved by the Iraqi cabinet.
Al-Kadhimi expressed his regret and apology for the recent attacks by certain individuals on Iran's diplomatic missions in Iraq, stressing that the issue is under investigation and perpetrators will be dealt with seriously.
In relevant remarks late in April, Iranian Parliament Speaker Mohammad Baqer Qalibaf said that military presence of the US and other foreign forces endangers security and economic opportunities in the region.
"Today, any presence of trans-regional military forces in the region does not maintain security in the region and they themselves pose a threat to the region," Qalibaf said, addressing a forum to commemorate the Persian Gulf Day in Iran.
He added that deployment of foreign forces, specially the Americans, causes insecurity and destruction of economic opportunities in the region.
"The Americans are the main cause of insecurity in the Persian Gulf," he said, adding that they have been deployed in the region to safeguard Israel's security by changing trends and structures and loot the region's energy resources.
Noting that Iran has never allowed the US to reach the Northern parts of the Persian Gulf, Qalibaf said, "We hope that with the cooperation of all countries in the region, we will completely cut off the US hand from the region and one day see the expulsion of US troops and those who threaten regional security."
He underlined the need for the self-confidence and convergence of the regional countries and nations to attain this goal, and said, "The regional states should work together with a maximum understanding in military, defense, economic and environmental cooperation, and then we will see how security will be established in the Persian Gulf and how it will affect the security and economy of the world."