2021-June-13 09:34
Politics
2021-May-18  13:50
Iran: Israel's Crimes Sure Not to Go Unanswered
TEHRAN (FNA)- Iran's Judiciary Chief Ebrahim Rayeesi condemned Israel's crimes against the defenseless people of Gaza, saying that these crimes will surely receive fitting answer.
"The worrying news of the Palestinian people's plight hurt the heart of every viewer and listener," Rayeesi said, adding that undoubtedly the Zionist regime's crimes will not go unanswered.   
"The killing of the women and children, as well as destroying the buildings, especially in the most populated areas, once again proved the passivity of UN Security Council and other international bodies toward the Palestinian issue," he went on to say.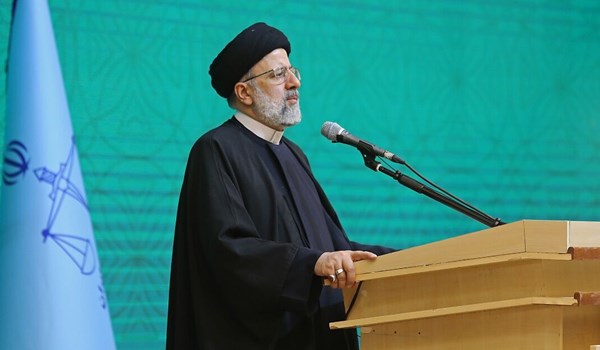 "These bitter events have caused the Palestinian people lose their hope in the so-called human rights organizations more than ever," the judiciary chief said, adding that the US and other Western regimes will never take a step to restore the violated rights of Palestinians.
He said that those countries that granted a hollow legitimacy to the fake Israeli regime by normalization of ties with this regime, certainly are complicit in the massacre of innocent Palestinian children and women.
At least 212 people, including 58 children, have been martyred in the Gaza Strip since Israel started the new round of crimes against Palestinians a week ago. Over 1,400 Palestinians have also been wounded.
In relevant remarks on Monday, Iran's Army Commander Major General Abdolrahim Mousavi said that continuation of Israeli crimes against the Palestinian nation is the result of compromises made under the 'Deal of the Century'.
"Islamic Republic of Iran considers continuation of crimes and atrocities of the Zionist regime against the oppressed Palestinian people as the result of betrayal of compromisers of the Deal of the Century, Major General Mousavi said, adding, "The blood of children of Gaza will drown the compromisers."
"The Zionist regime, which was once dreaming of dominating the region, is now desperate and stuck in battle with the Resistance Front's forces," he said, stressing that Israel's dream of from the Nile to the Euphrates has been mitigated to the nightmare of maintaining Israeli terrorist garrison.