2021-October-24 21:31
Politics
2021-May-19  11:48
Iranian Speaker Asks for Muslims' Efforts to Uproot Israeli "Tumor"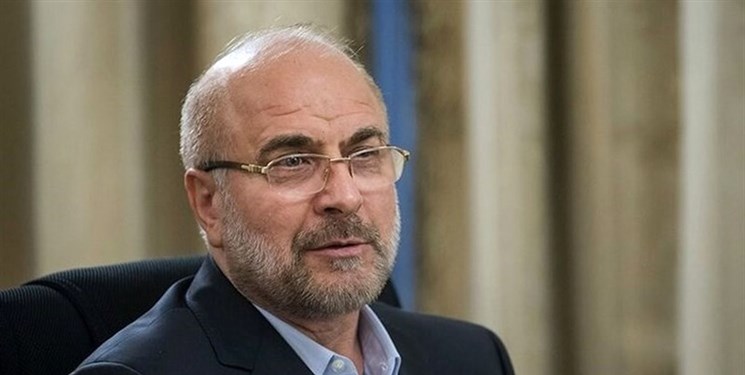 TEHRAN (FNA)- Iranian Parliament Speaker Mohammad Baqer Qalibaf called on the Muslim states to increase efforts and unity to uproot the Zionist regime which is like a "cancerous tumor" in the region.
"The Islamic world does not tolerate silence on the oppression and massacre of Muslims, and it is necessary for all Muslims in the world to increase efforts to eliminate this cancerous tumor," Qalibaf said in a phone conversation with his Kuwaiti counterpart Marzouq Ali al-Qanim.
"Today, the Muslim states share the common pain of the killing of women and children in Palestine. At a time when the most heinous and painful crimes against humanity are being committed in this part of the Islamic land, the silence of the international community, humanitarian organizations and the UN is surprising," he added.
Al-Qanim, for his part, said that the most horrible crimes are being committed against the Palestinians, and added, "Maintaining the unity of all Muslim countries against the oppression and excessive demands of the Zionists is a religious, human, Islamic and moral obligation."
He underlined that the government and people of Kuwait agree to hold any parliamentary meeting and initiative in support of the Palestinian people.
In relevant remarks on Sunday, Qalibaf had also strongly condemned the cruel Israeli crimes against Palestinians, and said that the Islamic Ummah is standing by the Palestinian nation to punish Zionist aggressors for their crimes.
"The heart of Islam beats for Palestine. The Islamic Ummah and Resistance have stood by the Palestinian cause with strength and confidence so as to punish Zionists for their actions," Qalibaf said at the open session of the parliament, adding, "We strongly condemn the brutal crimes of the Zionist regime."
"We welcome the resistance of all parties in Palestine and support any move to stop the Zionist regime's crime," he went on to say.
"Failed plans such as the deal of the century and compromising of some Arab leaders will lead nowhere," Qalibaf stressed.