2021-July-28 17:36
Politics
2021-May-19  16:31
Iran, Italy Vow to Widen Bilateral Ties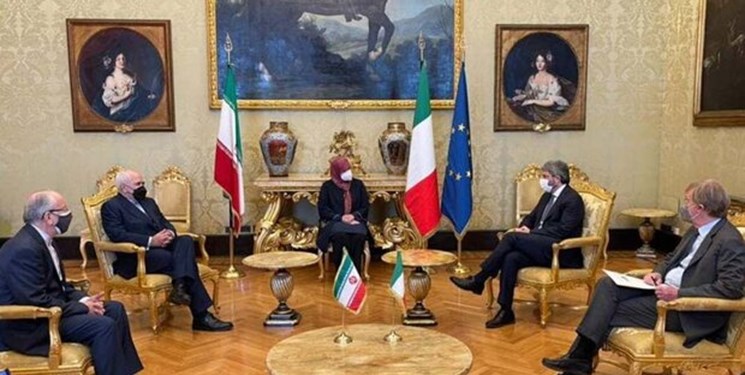 TEHRAN (FNA)- Iranian Foreign Minister Mohammad Javad Zarif and Italy's Lower House Speaker Roberto Fico in a meeting in Rome underlined the need to expand mutual cooperation in different fields.
During the meeting in the Italian capital on Tuesday, Zarif and Fico explored avenues for bolstering and reinvigorating bilateral relations in different areas.
During the meeting, the Iranian foreign minister pointed to the 160 years of relations between the two countries, and called for broadening of mutual cooperation in political, economic, and parliamentary fields.
"My country is interested in expanding cooperation with Rome, in various sectors, in particular bilateral Parliamentary ties," Zarif added.
In their meeting, the two sides also reviewed ongoing JCPOA talks in Vienna and other regional countries' issues.
The Italian speaker, for his turn, stressed his country's interest in exchanging parliamentary delegations between the two countries.
In a separate meeting on Monday, Zarif had conferred with Vatican's Prime Minister Cardinal Pietro Parolin on mutual cooperation, and exchanged views with the Vatican official on Persian Gulf, Palestine and West Asia.
Cardinal Parolin expressed hope that Vatican would consult more with the Iranian officials on issues of mutual interest.
"I had an extraordinarily fine meeting with His Excellency Pope Francis," Zarif tweeted.
"I also had a good meeting with Vatican Prime Minister Cardinal Parolin and Archbishop Gallagher in which we exchanged viewpoints on our shared viewpoints and challenges, dialogue among religions, Palestine, the US sanctions, and bilateral and international cooperation with Vatican," he added.