2021-July-28 17:58
Politics
2021-May-21  13:00
IRGC Qods Force Commander: Muslims Soon to Enter Al-Aqsa Mosque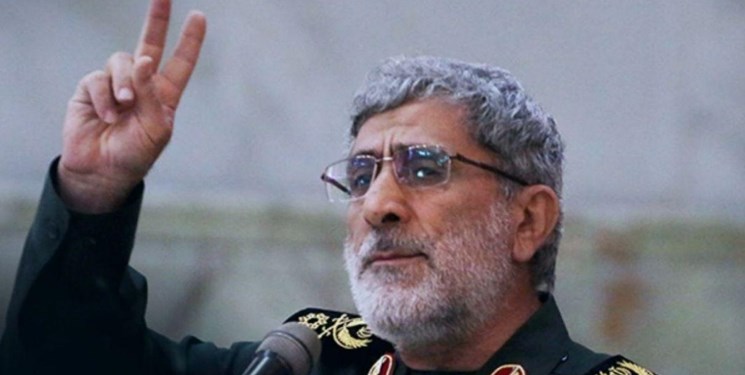 TEHRAN (FNA)- Islamic Revolution Guards Corps Qods Force Commander Esmayeel Qaani lauded the struggles of Palestinian groups, assuring that the Islamic Ummah will soon enter Palestine and pray in the Al-Aqsa Mosque.
"We will soon enter Al-Aqsa Mosque with dignity and might to pray there." Qaani wrote in a letter to commander of al-Quds Brigades (the armed wing of Islamic Jihad) Akram al-Ajouri praising their recent victories against the Israel regime.
"You have succeeded to shatter the hollow awe of the Zionist military with your wise and courageous resistance, unity and command," he went on to say.
General Qaani vowed to continue the path of his predecessor lieutenant General Qassem Soleimani in supporting the Palestinian resistance, stressing, "We will not stop helping you until the fall of the usurper regime, although the threats and dangers will increase and intensify."
"As Imam Khamenei once said, the fight against the blood-shedding Zionist regime is a battle against terrorism and is a public duty," he said.
In another a letter to the commander of Ezzedine al-Qassam Brigades (armed wing of Hamas), Mohammed Zeif, Qaani had said that Iran will not leave Palestine alone.
He reassured that Al-Quds will win.
The IRGC Qods Force Commander reiterated that the recent operations of the Palestinian Resistance have pushed the Palestinian struggles into a new stage.
Qaani said that the traitors to the Palestinian cause will definitely regret it.
He stressed that according to the prediction of Supreme Leader of the Islamic Revolution Ayatollah Khamenei the countdown has already begun for the annihilation of the Zionist regime.
Earlier this week, General Esmayeel Qaani, in a phone call with the head of Hamas political bureau Ismail Haniyeh, hailed the unique and successful performance of the Resistance Front against Israel and its defense for the Palestinian people, adding that the Islamic Republic of Iran will never stop supporting the Palestinian people and the brave Resistance.
Qaani strongly condemned the brutal crimes of the usurper Zionist regime against Palestinians, particularly in Gaza and Sheikh Jarrah neighborhood in Jerusalem al-Quds.
Haniyah, for his part, pointed to the Israel's crimes in Gaza and the Holy Quds and the savage killing of Palestinian women and children, stressing that the fight in al-Quds is the fight of all the Palestinian people.
He also praised Iran's support for the Palestinian people.
In a separate phone contact on Saturday, Brigadier General Qaani had also talked to Secretary-General of the Islamic Jihad Movement Ziad al-Nakhalah. The two sides discussed the latest developments in the Occupied lands.