2021-July-24 19:56
Blinken Off to Mideast to Reaffirm US Support to Israeli Regime After Crushing Defeat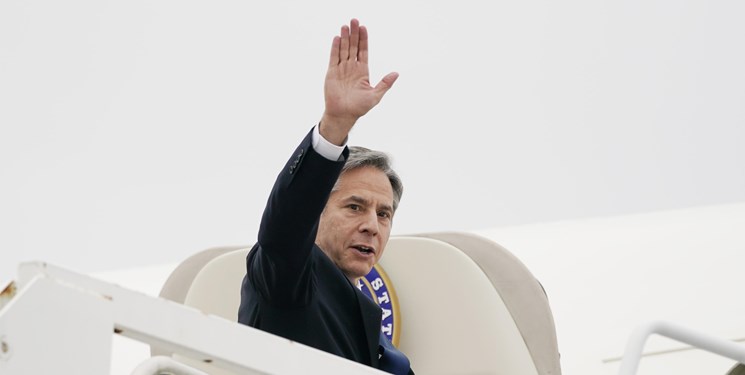 TEHRAN (FNA)- US Secretary of State Antony Blinken embarked on a tour of Middle East, where he would meet high-ranking officials of the Israeli regime and Palestine, among other regional leaders and US allies.
Blinken on Monday said he was traveling to Jerusalem, Ramallah, Cairo, and Amman "at the request of (US) President Joe Biden" in an attempt to "solidify a ceasefire".
Earlier, White House in a statement announced that the top US diplomat would depart for a short visit to the region on Monday.
It said Blinken will meet with Israeli regime officials about US "ironclad commitment" to the regime's security, in a signal that the trip has been choreographed to express solidarity with the Israeli regime.
Before embarking on the trip, Blinken reiterated US support to the Israeli regime, saying the Biden administration remains committed to providing the regime with what it needs to defend itself.
President Joe "has been equally clear we're committed to giving Israel the means to defend itself", Blinken said in an interview with ABC News.
He also pointed to what he claimed to be the Biden administration's "relentless, determined, but quiet diplomacy" in the region, saying it's "what got us to where we needed to be."
During the trip, Blinken is expected to meet with Israeli regime premier Benjamin Netanyahu, Palestinian President Mahmoud Abbas, Egyptian President Abdel Fattah el Sisi and Jordan's King Abdullah, the US State Department said.
Blinken, however, will not be meeting the officials of the Palestinian resistance group Hamas, which inflicted a crushing defeat on the Israeli regime after a fierce 11-day aggression by the latter.
The US government has come under severe criticism across the world, including from the US Democrats, for not doing enough to prevent its ally from unleashing unutterable terror on Palestinians.
It has also been under fire for approving the sale of $735 million in precision-guided weapons to the Israeli regime amidst the regime's aggression in Gaza.
At least 253 Palestinians were killed in the Israeli regime's bombardment on the besieged Gaza strip before the apartheid regime was forced to beat the humiliating retreat by the resistance front.
The latest escalation was triggered earlier this month by the Israeli regime forces who forced Palestinian families to vacate their homes in the Sheikh Jarrah neighborhood of East Jerusalem, followed by violent onslaught on worshipers at the sacred Al-Aqsa Mosque.
After the Palestinian resistance movement retaliated, the occupying regime fired a barrage of missiles targeting civilian areas in the besieged territory, including high-rise buildings housing residential apartments and media houses.
Biden and some of his Democratic colleagues insisted that Israel has the right to defend itself, even though an overwhelming evidence pointed to Israeli regime's disproportionate attacks on Palestine.
The US government, according to observers, has been complicit in the Israeli regime's horrendous war crimes in the occupied territories.