2021-June-23 21:54
Politics
2021-May-29  13:43
IRGC Aerospace Force Commander: Israel's Bones Cracked in Gaza War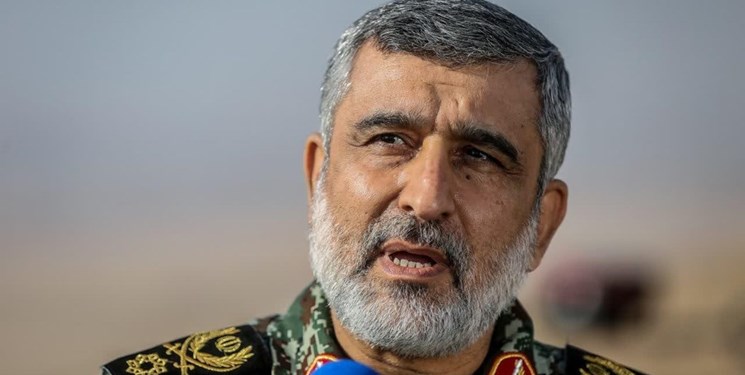 TEHRAN (FNA)- Commander of the Islamic Revolution Guards Corps (IRGC) Aerospace Force Brigadier General Amir Ali Hajizadeh said that the Zionist regime's weaknesses were displayed to the world during the recent 12-day war between Israel and the Palestinian resistance groups.
"The 12-day war and the fierce resistance of the Palestinians speaks out for itself, and the resistance's power should be found in enemies' words. We heard what the US CENTCOM commander said; they admitted that Iran has seized not only air but also military superiority from them," General Hajizadeh said, addressing a ceremony in Tehran on Saturday.
He added that failures of the global arrogance and the Zionists are not limited to the occupied territories, Lebanon, Syria, Iran, Iraq and Yemen, and stressed, "The Zionists know that they should pick up (whatever they have) and leave this region. In Gaza [war], we saw that the basic necessities of life were not available to them. According to the leaders of the Zionist regime, they showed the nature and defeat of this regime to the world, and the bones of the Zionist regime were cracked in this war, and everyone saw this. This is only the beginning of the collapse of the Zionist regime and a turning point in their collapse."
General Hajizadeh noted that the US will also collapse with the collapse of the Zionist regime, and added, "All those who oppress people in the world will collapse, and God willing, we will see great successes and victories in the future, and greater victories are ahead."
The Gaza war began on May 10 and lasted until May 21, when the occupying regime announced a unilateral ceasefire which was accepted, through Egyptian mediation, by the Palestinian resistance groups in Gaza.
Throughout the 12-day asymmetrical encounter, Israeli airstrikes killed at least 254 Palestinians, including 66 children, wounded almost 2,000, and displaced over 72,000 people in the besieged enclave. On the other side, over 4,000 Palestinian rockets were fired at occupied territories, killing 12 Israelis.
Meanwhile, Hamas leader Yahya Sinwar warned Israel on Wednesday that the Palestinian resistance group is capable of firing hundreds of missiles with ranges of up to 200 km towards the Israeli-occupied territories in one minute.
"The resistance has the ability to fire hundreds of missiles with a range of 100-200 kilometers per minute at the Zionist enemy," Sinwar said, adding that the resistance only demonstration a fraction of its capabilities in defending Gaza.