2021-June-19 17:56
Politics
2021-May-29  12:53
IRGC Qods Force Commander: Israelis Need to Start Reverse Immigration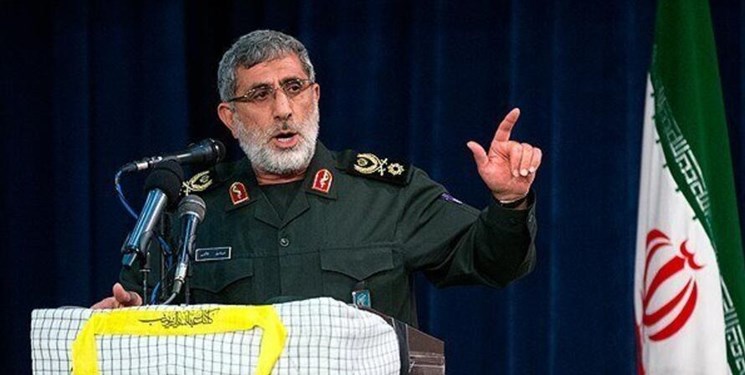 TEHRAN (FNA)- Islamic Revolution Guards Corps Qods Force Commander Brigadier General Esmayeel Qaani on Saturday advised all Zionists to return to their houses in Europe and the US as soon as possible.
General Qaani said that Israel should think of an imminent delivery of rule over the Occupied Lands to the Palestinians, and added, "I advise the Zionists to return to their houses that they have sold in Europe and America before these houses become more expensive."
"Many of the infrastructural facilities were within the reach of Palestinian missiles and could be targeted," he said, noting, "but, they [Resistance groups] refused to target them because it will not take long for Palestinians to use these facilities."
The commander went on to say that in the first three days of the recent war, the number of the missiles fired by the Resistance Front to the Occupied Territories was as many as that of the entire 22-day war which indicates the power of Resistance.
"We all witnessed how Gaza bravely defended all Palestinian lands, despite being under sanctions for 15 years," he said, adding, "The Palestinian Resistance acted in such a way that from the first day, the Zionist regime begged its friendly countries to call on the Palestinians to stop the war."
"The era when the Zionist regime wanted to kill the Palestinians with weapons, bullets and guns has gone. Today, more than 3,000 missiles fired towards the occupied territories were produced by the Palestinians themselves," Qaani stressed.
"The message of the Palestinian Resistance and global Resistance to the children of Palestine is to plan for ruling the whole Palestine," he added.
The Israeli military launched a bloody military onslaught against the Gaza Strip on May 10, razing many homes and civilian buildings to the ground in the already-besieged Palestinian territory.
Meanwhile, Palestinian sources reported that the death toll from Israel's ongoing aggression against the besieged Gaza Strip rose to at least 253 Palestinians, including tens of children and women.
The report by the Palestinian Health Ministry noted that Israel's military aggression, which lasted for 11 days, also wounded over 1,948 civilians, dozens of them seriously.
Meantime, retaliatory rocket attacks by Hamas and Islamic Jihad against Israeli targets came in response to Israel's relentless airstrikes on the densely-populated enclave.
On May 16, Israeli sources said that Gaza-based Palestinian resistance groups had fired around 4,000 rockets toward the occupied territories over the previous several days, surpassing the pace seen during an escalation in 2019 and the 2006 war with Lebanon's Hezbollah resistance group.
Israel had to accept self-declared ceasefire on Friday May 21.