2021-June-19 16:12
Facebook Suspends Trump for Two Years, Citing 'Severe Violation' After Capitol Riots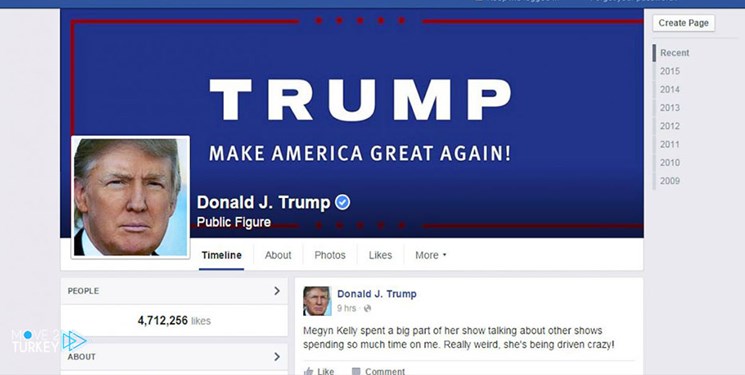 TEHRAN (FNA)- Facebook suspended former President Donald Trump for two years but ending just in time for him to possibly regain his powerful social media megaphone in the 2024 election cycle.
After that period, Facebook said it would consult experts to determine whether "the risk to public safety has receded", and make a call on Trump's return, USA Today reported. 
But Facebook warned that Trump's Facebook and Instagram, if reinstated, would face a "strict set of rapidly escalating sanctions" if he violates the company's rules again after being reinstated on January 7, 2023.
Trump's accounts on Facebook and Instagram were frozen the day after the attack on the US Capitol for his praise of supporters who stormed it, Facebook said.
"When the suspension is eventually lifted, there will be a strict set of rapidly escalating sanctions that will be triggered if Mr. Trump commits further violations in future, up to and including permanent removal of his pages and accounts," Facebook's Vice President of global affairs and communications Nick Clegg said Friday.
As part of Friday's announcement, Facebook said it would no longer grant politicians and other public figures special exemptions from its content policies after the social media giant faced a firestorm of criticism for being unclear on how and why it treats the speech of world leaders differently from any other user.
Public figures who foment violence during periods of civil unrest could face penalties ranging from one-month to two-year suspensions, the company said.
"Given the gravity of the circumstances that led to Mr. Trump's suspension, we believe his actions constituted a severe violation of our rules which merit the highest penalty available under the new enforcement protocols," Clegg said.
The former president condemned Facebook's decision.
"Facebook's ruling is an insult to the record-setting 75 (million) people, plus many others, who voted for us in the 2020 Rigged Presidential Election," he said in a statement, adding, "They shouldn't be allowed to get away with this censoring and silencing, and ultimately, we will win. Our Country can't take this abuse anymore!"
He later added, "Next time I'm in the White House there will be no more dinners, at his request, with Mark Zuckerberg and his wife. It will be all business."
Facebook's decision dealt a significant blow to Trump, who relied on Facebook to rake in campaign cash for himself and for Republicans he backs.
"Donald Trump essentially became the big, red 'easy' button for a lot of donations," Bret Jacobson, president of digital advocacy agency for conservatives Red Edge, told USA TODAY.
Trump's possible reinstatement on Facebook will not come in time for the 2020 midterm elections, preventing him from spreading his message and hauling in campaign donations the way he did in 2016 and 2020.
"I think it's hard to think of any individual candidate who more successfully used Facebook to advance their political career than Donald Trump and my guess is his team is very aware of the crunch his temporary banishment is causing him," Jacobson said. 
The Biden White House addressed the Trump suspension during Friday's press briefing.
"Our view continues to be though that every platform whether it's Facebook, Twitter, any other platform that is disseminating information to millions of Americans has a responsibility to crack down on disinformation to crack down on false information whether it's about the election, or even about the vaccine, as we're trying to keep the American public safe and get more people are returned to normal out in society," White House Press Secretary Jennifer Psaki told reporters. 
"We learned a lot from President Trump, the former president, over the last couple of years about his behavior and how he uses these platforms. Feels pretty unlikely that the zebra is going to change his stripes over the next two years," she said, adding, "We'll see."
Facebook's Oversight Board – a quasi-independent panel of experts funded by Facebook – ruled that suspending Trump's Facebook and Instagram accounts was the right move but said it was not appropriate to impose an indefinite suspension and instructed the company to review the matter within six months, opening the door to Trump's possible return.
But Facebook surprised the world with its decision months ahead of the November 4 deadline.
"In establishing the two-year sanction for severe violations, we considered the need for it to be long enough to allow a safe period of time after the acts of incitement, to be significant enough to be a deterrent to Mr. Trump and others from committing such severe violations in future, and to be proportionate to the gravity of the violation itself," Facebook said.
Trump lost his direct link to supporters when he was booted from the nation's top social media platforms following the Capitol attack. He has relied instead on a patchwork of press releases and personal messages, television interviews, emails and robocalls to reach supporters. This week, he pulled the plug on a blog "From the Desk of Donald J. Trump" due to low readership.
Once his suspension lifts, Trump's team "will go to great lengths to ensure he can still say attention-grabbing things within the rules, keeping him active on a platform that leads to so much political and monetary success", Jacobson said.