2021-September-24 01:04
Politics
2021-June-8  16:36
Iran Condemns US Interfering Remarks, Underlines Right to Trade Weapons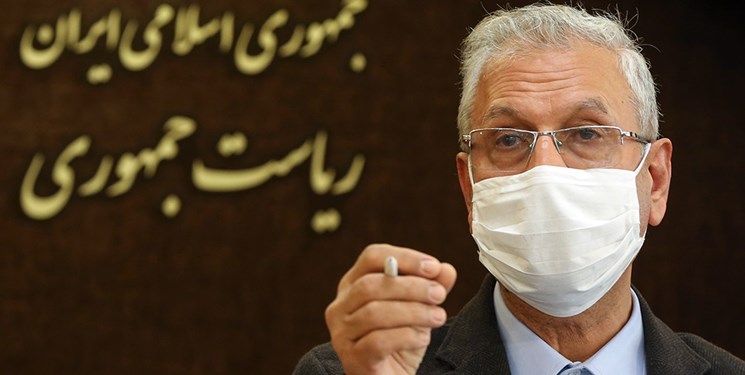 TEHRAN (FNA)- Iranian Government Spokesman Ali Rabiyee deplored the recent comments by Pentagon Spokesman John Kirby against two Iranian vessels sailing in international waters, and stressed Tehran's right to trade weapons with all the world states, including Venezuela.
"Interference in Iran's bilateral relations with other countries which are in accordance with international laws and norms as part of the natural rights of the two nations, is annoying and unacceptable," Rabiyee told reporters in a press conference in Tehran on Tuesday.
"The Islamic Republic of Iran reserves the right to enjoy normal trade relations within the framework of international laws and regulations, and considers any interference and supervision of these relations as illegal and insulting, and strongly condemns it," he added.
Kirby had said last week that Washington is tracking the two Iranian vessels which could be carrying military equipment and may be bound for Venezuela and reserves the right to take "appropriate measures" if they are determined to pose a threat. 
Rabiyee said that as mentioned before, the friendly and normal relations between Iran and friendly countries are only for the benefit of the two countries and are not against any third country, adding that the concerns expressed by the US officials are irrelevant and unjustified.
"We warn against any interference with this legitimate business and will consider a spectrum of necessary and appropriate responses in case of a mistake," he warned. 
Rabiyee, meantime, blasted the US for seriously threatening the security and stability of the region by selling billions of dollars of weapons and military equipment to the Persian Gulf littoral states for years, and said the Islamic Republic of Iran has repeatedly warned against these destabilizing acts by the US which stir tension in the region.
"Also, regardless of what these ships are carrying, there is no ban on the purchase and sale of weapons by Iran, and Resolution 2231 approves it. The US did its best to maintain (arms) sanctions (against Iran) in this regard last year, but failed disgracefully due to lack of cooperation by other countries," he said.
If US means to get back to JCPOA, it needs to respect its contents that recognize #Iran arms deals since last Oct.

So, the voyage to Venezuela is an open test of US commitment, revealing much to those in Vienna.

P.S. what if the 2 vessels are already Venezuelan property?

— S.M.Khoshcheshm (@khoshcheshm) June 4, 2021
In relevant remarks last week, Rabiyee had underlined good relations and cooperation between Tehran and Caracas in different fields, including military arenas, but meantime reiterated that the two countries' ties are not meant to harm any third party.
"There is nothing abnormal in the friendly and traditional relations between Iran and Venezuela, and the Islamic Republic of Iran considers its inalienable right to establish friendly relations with all nations of the world in accordance with international laws and regulations in all economic, political, cultural and military dimensions to strengthen mutual cooperation and international peace," Rabiyee told reporters in a press conference in Tehran last Tuesday.
"The Islamic Republic of Iran's Naval vessels have always had positive and successful operations in the region and surrounding areas for peaceful purposes, including fighting against pirates and smugglers and protecting the environment," he added.
"Our relations with Venezuela are not against any third country and there is no reason to worry about these relations. Using the word provocative to describe these relations is a wrong and pessimistic choice and does not reflect our real intention to have constructive relations with all nations of the world, including Venezuela," Rabiyee said.
"The Islamic Republic of Iran extended a hand of friendship to the region even during the era of Trump's evil acts. Iran's vision in the fight against terrorism and security peace is clear," he added.
His remarks came after the Politico magazine reported that "the US national security community is monitoring two Iranian naval vessels whose ultimate destination may be Venezuela".
"An Iranian frigate and the Makran, a former oil tanker that was converted to a floating forward staging base, have been heading South along the East coast of Africa," it quoted three people familiar with the situation as saying.
The US officials do not know for sure the destination of the Iranian ships, these officials said, but believe they may be ultimately headed for Venezuela, the report added.
In response, the Iranian foreign ministry warned the US officials to avoid miscalculations about the country's warships in free waters which Washington claims might be heading to Venezuela.
"Iran is always present in international waters and has this right under international law and can be present in international waters," Foreign Ministry Spokesman Saeed Khatibzadeh told reporters in a press conference in Tehran last week.
"No country can violate this right," he underlined.
Khatibzadeh warned the US officials not to "make miscalculations", and added, "Those who have sit in glass houses should be careful."