2021-June-18 10:30
Politics
2021-June-9  15:16
Deputy DM: Iran-Made Fakhra Vaccine Developed Based on Global Standards
TEHRAN (FNA)- Iranian Deputy Defense Minister Brigadier General Qassem Taqizadeh said that the country's new COVID-19 vaccine, 'Fakhra', named after the martyred Iranian scientist, Mohsen Fakhrizadeh, has been produced based on international standards and even is better than foreign rivals.
"Fortunately, after the coronavirus outbreak, we managed to supply vaccines in addition to providing health services to the people in various hospitals of the Armed Forces, and today one of the most important and effective vaccines has been produced in the Defense Ministry," General Taqizadeh said, addressing a ceremony to start the second phase of the clinical trial of Fakhra vaccine on Wednesday.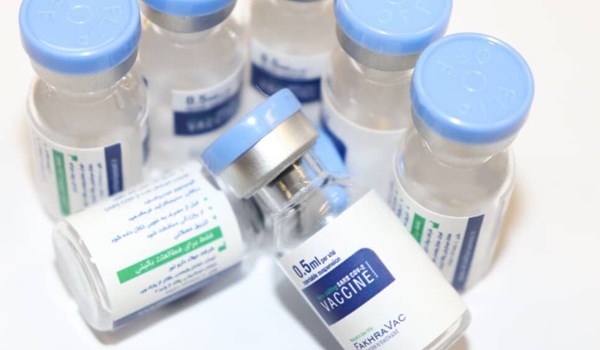 "One of the honors of Iran is the production of Iranian Fakhra vaccine, which is on a par with global vaccines, and we can proudly say that this vaccine also has advantages over its foreign samples," he added.
He expressed the hope that mass-production of Fakhra vaccine can meet the domestic needs of the country, and be exported to other states in the next stage.
Deputy Head of Iran's Biological Defense Base Mohammad Kariminia had said in April that Fakhra vaccine was passing the first human trial phase and was expected to be mass-produced in August.
"The infrastructures for the production of Fakhra vaccine will be completed by May, and if the vaccine passes the clinical phases and is licensed by the Health Ministry, the vaccine will be mass-produced in August," Kariminia told FNA.
He added that Fakhra is nearing end of the first human trial phase and will enter the second stage soon.
Kariminia hailed the young Iranian scientists for their astonishing progress in developing different drugs and medical equipment, saying that Iran which was once not able to manufacture flu vaccines has now developed coronavirus vaccine in 10 months.
Kariminia explained the activities of Iranian Defense Ministry's Organization of Defensive Innovation and Research (known by its acronym SPND) in tackling the coronavirus disease, specially production of Fakhra Vaccine, and stated, "From the very onset of coronavirus outbreak, the organization, enjoying specialized, committed and experienced manpower, took huge stride in the fight against the disease as per the initiative taken by Martyr Mohsen Fakhrizadeh."
Fakhrizadeh's car was targeted by an explosion and machinegun fire in Damavand's Absard 40 kilometers to the East of Tehran on November 27, 2020.
The nuclear scientist and one of his companions were immediately taken to a nearby hospital but he could not be saved.
Eyewitness accounts confirmed that Fakhrizadeh's car came under attack first by a blast and then by terrorists who sprayed bullets at his car.
Early in 2018, the Israeli sources had acknowledged that Mossad had tried to assassinate an Iranian nuclear scientist, but its operation failed. 
Mossad had gained access to Fakhrizadeh's name via a UN list which referred to him as a senior scientist of Iran's Defense Ministry's Physics Research Center.