2021-August-2 16:26
Politics
2021-June-14  18:02
Iran, Syria Vow to Broaden Bilateral Ties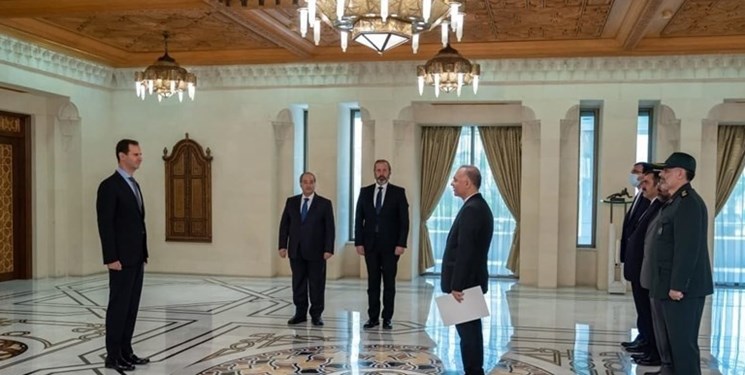 TEHRAN (FNA)- Syrian President Bashar al-Assad and Iran's new Ambassador to Syria Mehdi Sobhani in a meeting in Damascus underlined the need to expand mutual cooperation in different fields.
During the meeting in the Syrian capital, Sobhani submitted a copy of his credentials to the Syrian president at the beginning of his diplomatic mission to that country.
During the meeting, the two sides explored avenues for bolstering and reinvigorating bilateral relations. 
Sobhani has previously served as Director-General of the Foreign Ministry's Office of Strategic Planning and Monitoring, Consul General of the Islamic Republic of Iran in Karachi, Pakistan, Deputy Director-General for West Asia at the Ministry of Foreign Affairs as well as ambassador to Turkmenistan and Ukraine.
In a relevant development last month, Iran's Parliament Speaker Mohammad Baqer Qalibaf congratulated his Syrian counterpart Hammouda Sabbagh on the successful presidential election and re-election of Bashar al-Assad.
Qalibaf sent a congratulatory message to Sabbagh and felicitated him on holding a successful election and re-election of Bashar al-Assad as the president of the Arab country. 
"Holding this election with the zealous turnout of the people, despite foreign political and psychological interventions, is a great victory for the Syrian people, and promises a bright future," he said.
Qalibaf underlined the importance of bilateral friendly and fraternal relations and announced the parliament's readiness to support the expansion of cooperation between the two countries in various fields.
Bashar al-Assad gained 13,540,360 votes to become Syrian president for the fourth time.