2021-July-24 19:18
Politics
2021-June-20  17:32
IRGC Commander Felicitates Iranian President-Elect, Voices Readiness for Cooperation with New Gov't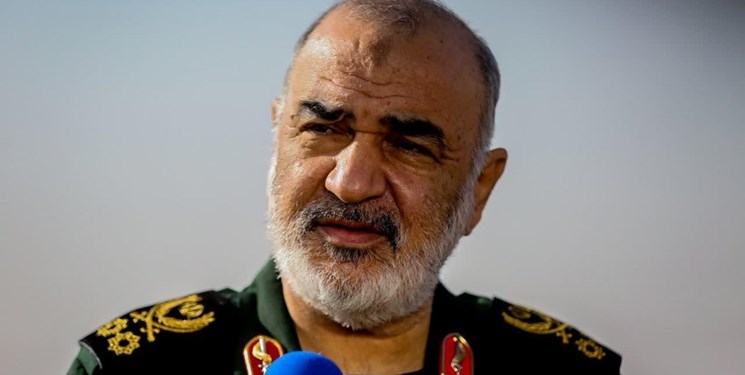 TEHRAN (FNA)- Commander of the Islamic Revolution Guards Corps Major General Hossein Salami in a message to Seyed Ebrahim Rayeesi congratulated him on election, stressing the IRGC's preparedness to cooperate with the new government.
"June 18 (the elections day) was, in fact, the day of the victory of the brave and hero nation of Iran and a field for the defeat and collapse of the enemy's evil and deceptive policies, strategies and scenarios against the safe sanctuary of the Islamic Republic," General Salami said in his message on Sunday.
He added that the future perspective of the country shows a new chapter in Iran's strengthening and the brilliant role of the nation, specially the passionate and progressive youth.
General Salami congratulated Rayeesi for winning the 13th presidential elections in Iran, stressing the IRGC's readiness for cooperation with the new government to render services to the honorable and noble people of Iran and advancing the plans of the 13th government to strengthen and use the capacities and opportunities guaranteeing the country's progress.
In relevant remarks on Friday, General Salami said that the enemy has fought this election, but the honorable and dear Iranian people will disappoint them with their votes.
"The great Iranian nation, by their massive turnout in the elections, foil all the evil dreams and aspirations of the enemies," Salami said.
Iranian Interior Minister Abdolreza Rahmani Fazli announced on Saturday afternoon that Rayeesi has been elected as the new president of the country with 17,926,345 votes cast in his favor.
"Of the total number of eligible voters, which was 59,310,307, the total number of votes cast was 28,933,004, which shows a turnout of 48.8%," Rahmani Fazli told reporters.
"Mr. Seyed Ebrahim Rayeesi, with 17, 926, 345 votes, stood first and was elected as the president," he added.
Rahmani Fazli said that Mohsen Rezayee Mir Qa'ed gained 3,412,712 votes, Abdolnasser Hemmati received 2,427,201 votes and Seyed Amir Hossein Qazizadeh Hashemi earned 999,718 votes and the rest of the votes are considered invalid which includes 3,726,870 votes.
Iranians began voting in the early hours of Friday in a contest among 4 candidates in the 13th presidential elections and also for the 6th Islamic city and village council elections across the country.
State television showed people's presence at polling stations in several cities and towns, quoting officials that over 59 million Iranians out of the more than 85 million population are eligible to vote.
Polls closed in Iran's 2021 presidential election after 19 hours of voting nationwide and in various foreign countries.