2021-July-24 17:52
Politics
2021-June-22  18:06
Iran's President-Elect Meets with Senior Military Commanders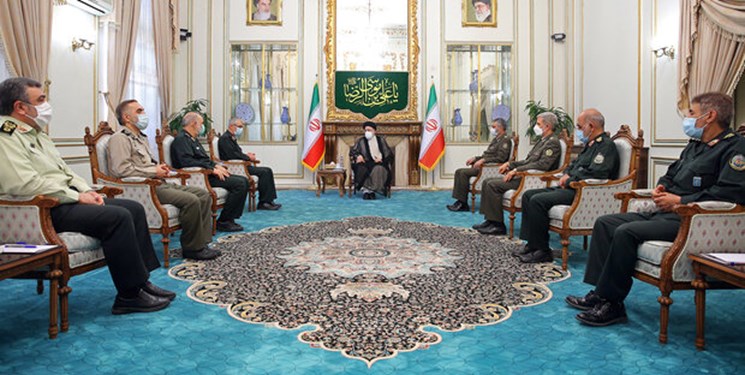 TEHRAN (FNA)- Iran's President-elect Seyed Ebrahim Rayeesi held a meeting with high-ranking military commanders in Tehran on Tuesday.
Chief of Staff of the Armed Forces Major General Mohammad Hossein Baqeri and a group of other high-ranking military commanders met with Rayeesi to congratulate him on victory in the Friday presidential elections.
General Baqeri and senior commanders of the IRGC, Army, Law Enforcement Police force, the defense minister and a group of other high-ranking military commanders met with Rayeesi at his office on Tuesday.
During the meeting, the senior military commanders emphasized readiness of the Armed Forces to assist the new government and upgrade the capabilities of the Islamic Republic in various fields and formation of a strong Iran.
Rayeesi, for his part, appreciated General Baqeri and other military commanders for their visit, and expressed the hope that the Iranian people would better off as compared to the past through using all the potentials available in the country.
Prior to the visit, IRGC Top Commander Major General Hossein Salami and members of the IRGC Command, as well as the Commander of the Police Force and a group of other senior police commanders had also visited Rayeesi at his office to congratulate him on victory. 
Iranian Interior Minister Abdolreza Rahmani Fazli announced on June 19 that Rayeesi has been elected as the new president of the country with 17,926,345 votes cast in his favor in the June 28 elections.
"Of the total number of eligible voters, which was 59,310,307, the total number of votes cast was 28,933,004, which shows a turnout of 48.8%," Rahmani Fazli told reporters.
"Mr. Seyed Ebrahim Rayeesi, with 17, 926, 345 votes, stood first and was elected as the president," he added.
Rahmani Fazli said that Mohsen Rezayee Mir Qa'ed gained 3,412,712 votes, Abdolnasser Hemmati received 2,427,201 votes and Seyed Amir Hossein Qazizadeh Hashemi earned 999,718 votes and the rest of the votes are considered invalid which includes 3,726,870 votes.
Shortly after the early results, Leader of the Islamic Revolution Ayatollah Seyed Ali Khamenei and other senior Iranian officials as well as different world leaders felicitated Rayeesi on election.