2021-August-3 03:46
Iran Carries Out 1st Remote Surgery with Home-Made Robot
TEHRAN (FNA)- Iranian experts conducted the first remote surgery on a dog by using a fully home-made robot, making Iran the second country in the world after the US with the capability to develop surgical robots.
The surgery was carried out at Imam Khomeini and Sina hospitals of Tehran on Wednesday in presence of Iranian Vice-President for Science and Technology Sorena Sattari.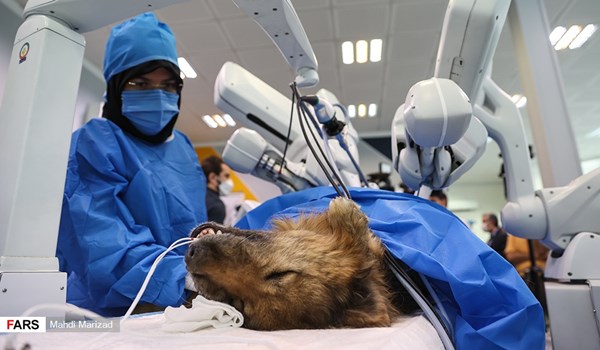 The process of this remote robotic surgery was paved in Iran Advanced Clinical Skills Training Center based in Imam Khomeini (RA) and Sina hospitals of Tehran in the presence of Sattari and Head of Advanced Medical Technologies and Equipment Institute Saeed Sarkar.
The surgery was performed on a dog (vasectomy operation) by Dr. Talebpour at Sina Hospital of Tehran.
As located seven km away from each other, the remote surgical operation was conducted in these two hospitals using a 5G network.
This robot has a surgical console that the surgeon can control and guide the surgery remotely by standing behind it and using two robotic arms.
Also a monitor has been placed next to the console that shows the image of surgery for surgeon clearly. The surgeon uses this system to control the surgery with a pedal and two robotic arms.
Iran has in the last few years taken a wide stride in area of science and technology, including robotic sciences.
In 2015, the country had unveiled a surgeon robot named 'Sina' capable of carrying out surgical operations on patients from remote distances.
"The robot has an advanced performance in the field of remote surgery and corresponds to the American Da Vinci robot," the manager of the project to build Sina robot, Farzam Farahmand, said at the time.
"By this robot, the surgeon makes different moves using a monitor and two surgery arms on that part of the body which should go under surgery and he/she is connected to the patient with a number of cameras," he added.
Noting that Sina remote surgeon robot has been designed and built by Sharif University of Technology and Tehran's Medical Sciences University, Farahmand said that the robot is mostly used for abdominal surgeries and has been tested on sheep.