2021-October-17 04:40
World
2021-June-30  19:25
Putin: Even If Russia Had Sunk British Warship, It Wouldn't Have Started WW3 Because US, UK Know They Can't Win Such A Conflict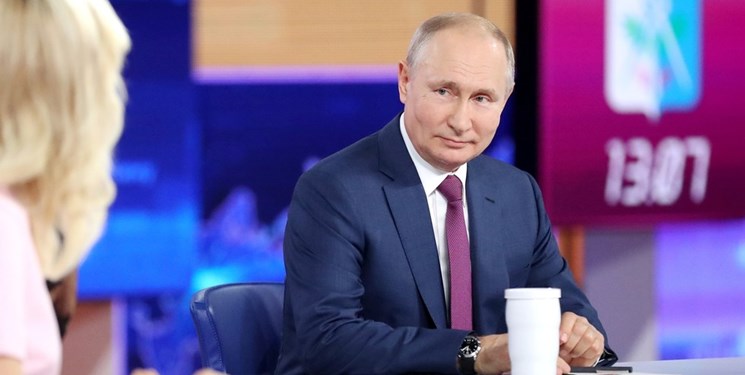 TEHRAN (FNA)- President Vladimir Putin slammed the violation of Russian territorial waters by British warship HMS Defender as a "provocation", claiming that London's American allies had a hand in last week's incident near Crimea.
However, apparently casting doubt on NATO's 'Article V' collective defense pact, the Russian leader claimed that, even if Moscow had sunk the vessel, it wouldn't have led to World War III, because the "provocateurs" know they wouldn't be able to win, RT reported.
Last week, the British naval ship HMS Defender entered the country's territorial waters and traveled three kilometers (almost two miles) inside the frontier, near Cape Fiolent, in Crimea. According to Russia's Ministry of Defense, the coastguard targeted warning shots at the boat. This has been disputed by the British, but video evidence suggests the Russian version of events is more accurate.
According to London, the destroyer was making a peaceful passage through the territorial waters of Ukraine in accordance with international law. The UK does not recognize Crimea as part of Russia.
Speaking at his annual 'Direct Line' call-in show, Putin revealed that a US strategic airplane took off from an airfield on the island of Crete and flew towards Russia on the morning before HMS Defender entered Russian waters.
However, despite the provocation, the two NATO members do not want a conflict, and it is not true to say that the world is now standing on the brink of a world war, he said.
"Even if we had sunk that ship, it would still be hard to imagine that the world would be on the brink of World War III," the president stated, adding, "Because those who are doing this know that they can't get out of this war victorious. That's a very important thing."
The Russian president also pondered the exact reasons for the British provocation, noting that matters discussed at his recent summit with his American counterpart, Joe Biden, in Geneva might offer an explanation.
"Why was it necessary to make such a provocation? For what?" he asked, adding, "To show that they have no respect for the choice of the Crimeans to join Russia?"
Putin also slammed the West for its hypocrisy, noting that Moscow had ordered its troops to move away from Ukraine's border earlier this year, after Russia had received complaints.
"We did it. But instead of reacting to it positively and saying: 'OK, we understand your reaction to our indignation,' instead, what did they do? They have come to our borders," Putin said.
Putin stated he is unlikely to meet with his Ukrainian counterpart, Volodymyr Zelensky, because the country's policies are set not by lawmakers in Kiev, but overseas in America and the European Union.
Speaking as part of his traditional televised 'Direct Line' question-and-answer session with the public on Wednesday, Putin dismissed the idea of a summit.
"Why should I meet Zelensky?" the Russian leader asked, adding, "If he has given up his country to full external control, the key issues about life in Ukraine are resolved not in Kiev but in Washington, and, to some extent, in Berlin and Paris. What then would we talk about?"
He noted that he would not "refuse a meeting of this kind", but said he would have to first "understand what we could talk about".
In April this year, Zelensky invited Putin to meet for negotiations "anywhere in the Ukrainian Donbass, where a war is taking place". He later said such a summit would be "inevitable".
Putin replied at the time that he would host Zelensky in Moscow to work on repairing bilateral relations. However, he added, Russia would not discuss the war-torn Donbass region without the participation of the leaders of the two self-proclaimed breakaway People's Republics of Donetsk and Lugansk, whose forces have been fighting pitched battles with Kiev's own troops.
Earlier this year, the leader of Ukraine's largest parliamentary opposition bloc, Viktor Medvedchuk, used an exclusive interview with RT to accuse Zelensky of turning the country into an American "colony" with "external governance" having been imposed. Medvedchuk is now facing high-treason charges linked to supposed business interests in Crimea.
Despite initially refusing to say which of two domestic coronavirus vaccines he received in March, Putin announced that he was given two doses of the country's pioneering Sputnik V formula.
Putin said he had made a decision about which jab to take based on what his colleagues were choosing.
"I made a decision for myself to be vaccinated with Sputnik V," he explained, "especially since our armed forces are being vaccinated with Sputnik V, and I am the supreme commander-in-chief."
"After the first injection, I didn't feel anything at all," Putin added, stating only that "after about four hours, a slight sensitivity appeared at the injection site" and he'd had a slight temperature overnight.
The president went on to stress that the other domestically developed formulas being made available to Russians through the country's national immunization program were also effective and worked well. However, he noted, Sputnik V appeared to protect against the virus for a longer duration. The leader stated he also believed Sputnik V had fewer side-effects than some foreign-made alternatives.
"Now more than 20 million – 23 million – … have already been vaccinated [in Russia]," he said, adding, "As you can see, everything is fine with us. Thank God, we haven't had such tragic situations after vaccination, as [have occasionally been seen] following the use of AstraZeneca or Pfizer elsewhere."
Putin was first immunized in a closed-door appointment on March 23, with cameras and reporters not invited to witness the moment.
At the time, the Kremlin refused to comment on which of the available jabs he had received. The president explained that this had been to avoid any unnecessary excitement at the time, but that he felt now was the time to reveal which formula he had been administered.
The phone-in session with the public comes as Russia announces a second day of record COVID-19 deaths. The country is currently grappling with a sharp increase in cases, which have been attributed to the new and more infectious Delta variant.
Russia's low level of vaccine uptake compared to some other developed nations has been cited as a reason for the increase in infections.
Measures have been put in place in Moscow and a number of other regions requiring workers across a range of industries to be vaccinated. A QR code system has been introduced for those wishing to enter hospitality venues.
They are required to demonstrate proof of vaccination or recent infection, or, if they have not been vaccinated or diagnosed with COVID-19 in the past six months, are required to supply a negative PCR test result from the past three days, so as not to be barred from entering.