Politics
2021-July-1  16:41
Iran Seeks Guarantees from US Not to Leave N. Deal Again
TEHRAN (FNA)- Iran asked Washington to provide strong guarantees that it will never again withdraw from the nuclear deal unilaterally.
Iran's Ambassador and Permanent Representative to the United Nations Majid Takht Ravanchi told reporters after a UN Security Council meeting on Wednesday that a guarantee by the US that it will never unilaterally withdraw from the 2015 nuclear deal again is crucial to a successful conclusion of the ongoing talks in Vienna aimed at reviving the agreement.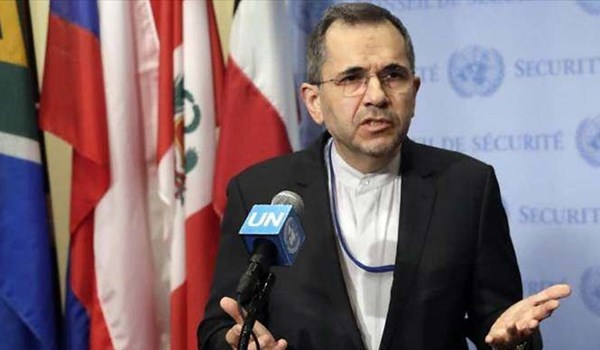 He reiterated that the US withdrawal from the nuclear deal, officially known as the Joint Comprehensive Plan of Action (JCPOA), was illegal and against international regulations.
"The US left the JCPOA illegally, irrationally and without any reason," Takht Ravanchi said.
"Now that we are speaking about a return to the JCPOA, it is our natural right that we must be given assurances and a guarantee that such a thing [the US withdrawal] will never be repeated again," he added.
"A repeat of this will lead to economic and humanitarian losses, on the one hand, and harm international relations, on the other," the envoy said. "The necessity for a US guarantee is an obvious principle which has been emphasized by Iran over the past years."
"This is an experience that we and other members of the Security Council have gained from the US's unlawful and unconventional withdrawal from the JCPOA," he said.
Takht Ravanchi emphasized that it is impossible to overlook the economic pressure that has been exerted on the Iranian nation in recent years.
The United Nations Security Council held a meeting on Wednesday to discuss the secretary general's report on the implementation of Resolution 2231 endorsing the JCPOA.
Antonio Guterres urged the United States to "lift or waive its sanctions" on Iran as agreed under the nuclear deal and to "extend the waivers with regard to the trade in oil with the Islamic Republic of Iran, and fully renew waivers for nuclear non-proliferation projects."
Addressing the meeting, Takht Ravanchi slammed the countries that reneged on their pledges under the JCPOA and wrongfully blamed Tehran instead for its rightful remedial nuclear measures.
"Those who broke their promise are the ones who must prove their sincerity and genuine political will. They are the ones who must take hard decisions," the Iranian envoy told the session.
After leaving the JCPOA in 2018, the US under the then President Donald Trump initiated a "maximum pressure" campaign of tough economic sanctions against Iran, prompting Tehran to take remedial measures by gradually reducing its nuclear commitments.
Since April, representatives from Iran and the remaining signatories to the JCPOA — France, Britain, Germany, Russia and China — have been holding talks in the Austrian capital aimed at bringing the US back to compliance and putting the deal back on track.
The talks have, however, dragged on, signaling that the US is still refusing to meet Tehran's key conditions for it to return to the JCPOA.