2021-July-28 02:33
Society_Culture
2021-July-4  17:13
Official: Over 2mln Doses of Home-Made COV-Iran Barekat Vaccine Produced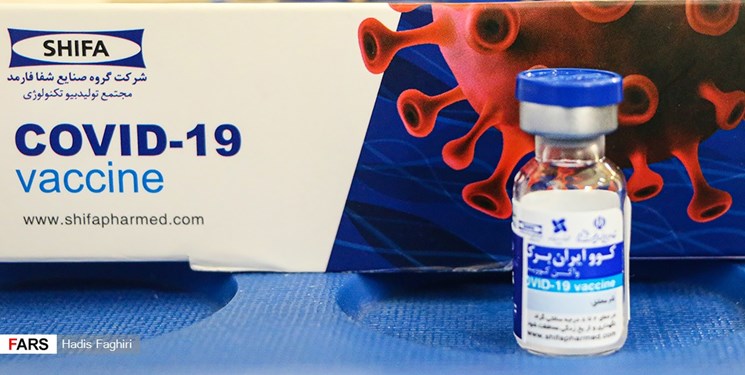 TEHRAN (FNA)- Head of the public relations office of Iran's Headquarters for Executing the Order of Imam (HEIKO) Hojjatollah Nikmaleki announced that over 2mln doses of the indigenous coronavirus vaccine, COV-Iran Barekat, has been produced and will be provided to the health ministry.
"So far, 2,50,000 doses of Barekat coronavirus vaccine have been produced. Since earlier this week, the production capacity has been increased and now we have 1.2mln doses of vaccine production per week," Nikmaleki said on Sunday.
"We will meet our promise to produce more than 50mln doses of vaccine by the end of September with the increase of capacities," he added.
NikMaleki said that each vaccine has a two-week quality control process after production and 400,000 doses have so far passed the process, adding that the health ministry is responsible for injecting the vaccine.
In relevant remarks earlier this week, Deputy Health Minister and Head of Iran Food and Drug Administration (IFDA) Mohammad Reza Shanehsaz announced that the country's vaccine production companies have prepared 1.8mln doses of home-made coronavirus vaccine for injection.
"All platforms used in the world for the production of coronavirus vaccine have been developed in the country, and in the next few months, the domestic need for vaccines will be met and we will be ready for exports," Shanehsaz said last Monday night.
Also, last Sunday, Health Minister Saeed Namaki said that Iran will be turned into the exporter of coronavirus vaccine in the very near future.
"We will not be short of (COVID-19) vaccines in the coming months, but we will also turn into exporter of vaccines," Namaki said, addressing a ceremony in Tehran.
Also, in May, Head of HEIKO Mohammad Mokhber said that nearly 30 million doses of COV-Iran Barekat vaccine will be produced and delivered to the health ministry.
"One million doses of the vaccine will be produced this month, 3 million doses next month, 10 to 12 million doses in July, and 13 to 15 million doses in August," Mokhber said, adding that the vaccines would be given to the Health Ministry for vaccination.
He noted that from September, 20 million doses of the vaccine would be produced monthly.
The official pointed out that people's concerns regarding the virus would be resolved within the next 3 to 4 months.
He concluded that all Iranian vaccines had achieved the human testing phase and desirable results, but COV-Iran Barekat has had fewer side effects.